Mustangs go pink for a good cause
October 13, 2014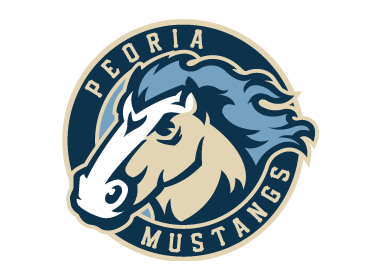 By Nicholle Resac
This past Saturday, October 11th, the Peoria Mustangs hosted a Pink Ribbon game in support of Breast Cancer Awareness month as they faced the St. Louis Jr. Blues. On Saturday night, as the clock ticked closer to game time, the Mustangs stepped out onto the ice wearing a sea of pink. With 17 skaters in pink and two goalies with pink pads, they were ready to not only battle for a win against the Jr. Blues, but also help fight against breast cancer.
After warm-ups, the Mustangs headed back into the locker room as their jerseys were put up for silent auction. The game ended with Levi Armstrong scoring a hat trick, Marshall Gevers scoring two goals, and Austin Wisely, Chance Homerin, Jason Hoehn and Andrew Scofield all scoring one apiece. Goalie Marc Hayton made 31 saves on 34 shots as the Mustangs won 9-3.
All of the pink jerseys were purchased by the amazing family and friends of the players, raising a total of $1350, with $700 going to the Susan G. Komen Foundation located in Peoria.
The Mustangs went on to win 4-1 against the Jr. Blues on Sunday, with two goals from Levi Armstrong and one apiece from Austin Wisely and Andrew Scofield. Marc Hayton made 24 saves for a weekend total of 56 saves on 60 shots.
The Mustangs currently sit atop the NA3HL Central Division standings with a 6-4-1 record and 13 points.