Metro forward Kelly signs NAHL tender
May 27, 2015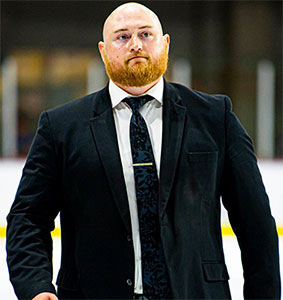 By Matt Mackinder
Sometimes, it's not the players with the most points that earn opportunities at higher levels, but rather the players that are versatile, team players.
Such is the case with Metro Jets forward-turned-defenseman-turned forward again Devin Kelly, who signed a tender agreement recently with the Topeka RoadRunners of the North American Hockey League.
Kelly spent the 2014-15 season in the North American 3 Hockey League with the Jets and early on, was moved from his natural forward spot to the blue line, where he excelled throughout the year.
Now, the 19-year-old product of Livonia, Mich., will try and make the RoadRunners, one of the more successful and sustainable franchises in all of the NAHL, as a forward.
"It all happened so fast," said Kelly. "I got a text from Coach Q (Justin Quenneville) on Friday when I was at work saying that Topeka was going to call me about a potential tender. On Saturday, Topeka called me and offered me a tender and I said 'yes' right away. The main thing I have to do to make Topeka's roster is come to camp in game shape and show them that I really want to be there. I think it will help a lot to be able to play both forward and defense as it shows that I can contribute in both the offensive and defensive zones."
Last year, Kelly scored 10 goals and added 13 assists for 23 points and a plus-14 rating in 46 games with Metro, who not only won the East Division regular-season title, but the divisional playoff crown as well.
Quenneville said seeing how Kelly grasped certain concepts and always put the team first is what should make him a success story at the NAHL level. "Devin made our team as a skill forward and we approached him early in the season to play more 'D' than just on the power play," Quenneville said. "His playmaking ability transitioned well on the back end and made an immediate impact to our 'D' core. He sees the ice so well and makes good decisions everywhere. It took him time to adjust and over the course of the season, you saw his versatility shine through. When I spoke with (RoadRunners director of player personnel) Steve Jennings, we felt he would make a good fit in Topeka since we play similar styles. He will have an opportunity and at the end of the day, that's what this is about."
Kelly added that playing for Quenneville and assistant coach Randy Wilson with the Jets provided him specialized training to up his game to the NAHL level – and winning along the way didn't hurt, either. "Coach Q and Randy helped a lot with the transition into the junior level and helping me become a versatile player," said Kelly. "I definitely improved on playing in the defensive zone the most this past season. Last season was so special because we had a great group of guys who were willing to do anything for each other and we all got along great."
Before heading down to Topeka, Kelly will be training this summer with old Livonia Stevenson High School teammates Tyler Irvine and Dominic Lutz, both of whom played for the RoadRunners last season, and Stevenson coaches David Mitchell and Kyle Zagata.