Saturday Scores: Thunderbolts sweep Jr. Predators
October 30, 2016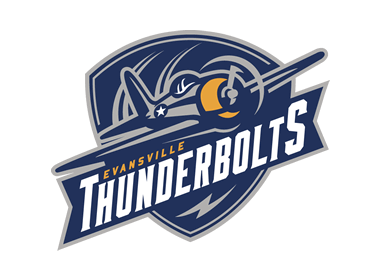 Louisiana Drillers 2 vs. Atlanta Capitals 1-The Atlanta Capitals attempted a comeback after letting in two goals in under a minute in the second, but the effort came too little too late, and the Louisiana Drillers came out on top, 2-1. Louisiana scorers include Keith Zobel and Tucker Alspaugh, while Boomer Miller scored the lone Capital goal. In net, Kevin Lake stopped 35 out of 36 shots for the Drillers, while Nolan Bivolcic and Leland Smith made 4 and 6 saves a piece for Atlanta.
West Michigan Wolves 6 vs. Southern Tier Express 4-The Southern Tier Express attempted to climb out of a 3 goal deficit in the third, but a late goal from Blake Siewertsen secured the 6-4 win for the West Michigan Wolves. That was Siewertsens second of the night, and Justin Bloomfield (2), Ryan Weaver, and Andrew Michalowski all earned points for the Wolves. For the Express, Bradley Delenko, Jacob St Andre, Arttu Rajamaki, and Santeri Rajakallio each scored one. Brian Thomas made 24 saves for West Michigan, and Ryan Pascarella and Harrison Vangellow made 15 and 26 saves, respectively, for Southern Tier.
Cape Cod Islanders 5 vs. Maine Wild 3-Three unanswered first period goals gave the Cape Cod Islanders an early lead, which they held to secure a 5-2 win over the Maine Wild. Aaron Deady, Tyler Granroth, Nevin Connors (2), and Niko Roy earned points for Cape Cod, and Connor Busch, Tucker Twardosky, and Ryan Gilboy each scored one for the Wild. In net, Justin Servidori made 41 saves for the Islanders, while Chris Oshaughnessy and Brandon Daigle made 23 and 26 saves, respectively, for Maine.
Long Beach Sharks 3 vs. Northeast Generals 1-The Northeast Generals may have scored first, but three unanswered goals from the Long Beach Sharks propelled them to a 3-1 win. Carmine Taffo, Phil Garcia, and Alex Cerda each netted one for the Sharks, while Connor Davis scored the lone goal for the Generals. Kyle Van Wagner picked up the win in goal, while Peter Ciccarelli took the loss.
Pittsburgh Vengeance 10 vs. Wooster Oilers 1-A strong offensive presence throughout the game propelled the Pittsburgh Vengeance to a 10-1 win over the Wooster Oilers. Chris Harvey, Austin Martz (2), Brian Dee, Dominic Glavach, Cam Williams (2), Ryan Loebig, Kenny White and Camron Smith all earned points for the Vengeance, while Michael Zenone scored the lone goal for Wooster. Between the pipes, Joel De Simone made 16 saves for Pittsburgh, and Michael Hubbard and Lucas Soyka made 25 and 17 saves, respectively, for the Oilers.
Metro Jets 9 vs. Toledo Cherokee 3-The Metro Jets established an early lead, which helped carry them to a 9-3 win over the Toledo Cherokee. Jason Newel, Jason Recchia, Mathias Tellstrom, Louis Boudon, Griffin Sawyer (2), Cam Schwartz (2), and Graham Day all scored for the Jets,while Tristin Snyder, Ricky Kwapich, and Nolan Stanley netted one a piece for the Cherokee. Defensively, Jake Gwillim made 14 saves on the Metro net, while Roman Malkov and Adrian Morales made 9 and 27 saves, respectively, for Toledo.
Peoria Mustangs 5 vs. St Louis Jr Blues 3-The St Louis Jr Blues grabbed the first three goals of the match, but a hat trick from Austin Wisely in the third turned the game around, giving the 5-3 win to the Peoria Mustangs. Jack Healy and Andrej Buchko also scored for the Mustangs, and Joe Papa, Jack Hatton, and Joe Nolan netted one each for St Louis. In net, JT Kossakowski stopped 21 shots on the Peoria net, and Zach Young made 22 saves for the Jr Blues.
Binghamton Junior Senators 8 vs. Syracuse Stampede 2-A strong offensive presence from the Binghamton Junior Senators early on propelled them to an 8-2 win over the Syracuse Stampede. Dominik Bogdziul, Lucas Ethington, Jeremy Wilber (2), Ryan Flanagan (2), Conor Landrigan, and Dylan Gulick all scored for the Junior Senators, and Oscar Lande netted both goals for the Stampede. In net, Salvatore Lauretta made 16 saves for Binghamton, while Ryan Scheide and Steven Kozikoski made 31 and 3 saves, respectively, for the Stampede.
Jersey Shore Wildcats 1 vs. Lockport Express 0-Jersey Shore Wildcat Tyler Allen scored the lone goal of the game, giving them the 1-0 win over the Lockport Express. Rio Virgoe earned a shutout with 33 saves for the Wildcats, and Sam Fitzpatrick stopped 65 shots on the Lockport net.
North Iowa Bulls 11 vs. Rochester Ice Hawks 2-The North Iowa Bulls established an early lead to carry them to an 11-2 win over the Rochester Ice Hawks. Marshall Barnes (2), Tim Kuivinen, Lucas McKinnon, Josh Arnold, Owen Larson (2) , Brendan Studioso, Logan Miller, Caylen Dyni, and Vincent Billing all got on the board for the Bulls, and Sam Bjellum and Austyn Renn each netted one for Rochester. In net, Brady Meyers made 11 saves for North Iowa, while Baily Schmitz and Drew Schenkenberg made 19 and 23 saves, respectively, for Rochester.
New Ulm Steel 6 vs. Wisconsin Whalers 4-A strong third period from the New Ulm Steel powered them to a 6-4 win over the Wisconsin Whalers. Nicholas Campbell, Dylan Liervermann, Fritz Belisle (3), and Jared Erickson all scored for the Steel, and Ben Ratner (2), Jimmy McDermott, and Austin Lewis scored for Wisconsin. In net, Nathan Siclovan made 34 saves for New Ulm, while Elliot Gerth stopped 42 shots for the Whalers.
Evansville Thunderbolts 3 vs. Nashville Jr Predators 2 (OT)-An early OT goal from Matt McElroy gave the Evansville Thunderbolts a 3-2 OT win over the Nashville Jr Predators. Jon Grimm and Kyle Nickles scored during regulation for the Thunderbolts, as did Peter Cabala and Dylan Schmidt for the Jr Predators. Defensively, James Fry made 31 saves for Evansville, and Nashville's Johnathan Chin made 28.
Breezy Point North Stars 4 vs. Granite City Lumberjacks 3 (OT)-The Granite City Lumberjacks may have scored first, but an OT goal from Andrew Heckaman gave the Breezy Point North Stars the 4-3 OT win. Tyler Larwood and Tristyn Sabina (2) scored in regulation for the North Stars, and Jordan Olson, Tucker Bjorlin, and Braden Altena scored for the Lumberjacks. In net, Bronson Moore stopped 26 shots for Breezy Point, while Mac Berglove stopped 31 shots on the Granite City net.
Alexandria 4 @ Willmar 2 – Alexandria outshot the WarHaws 47-21 and scored four, 3rd period goals on their way to a 4-2 win. Josiah Roen, Tony Haley, Brenden Payne and Emil Lindfors scored for the Blizzard and Tyler Thompson made 19 saves in the win. Kyle Wendorf and Leonardo Ewald had goals in the losing effort for Willmar and Alex Cathcart made 43 saves in the loss.
Missoula Junior Bruins 5 vs. Bozeman Icedogs 4 (OT)-A late third period goal forces overtime, where Wyatt Mathews scored an OT goal to secure a 5-4 win for the Missoula Junior Bruins over the Bozeman Icedogs. Misha Akatnov (2), Rhys Cottle, Payton McSharry scored in regulation for the Junior Bruins, and Stosh Skorulski (2), Austin Charnholm, and Kadin Ferguson scored for the Icedogs. In net, Julius Huset made 39 saves for Missoula, and Charlie Smart and Benjamin Sakaria made 18 and 21 saves each for Bozeman.
Gillette Wild 8 vs. Billings Bulls 4-The Gillette Wild maintained a strong offensive presence throughout the match, leading them to an 8-4 win over the Billings Bulls. Colt Johnson, Derrick Scoggins (3), Cade Boreing, and Riley Holwegner (3) all scored for Gillette, while Ludvig Omdal and Kenny Miller netted two goals each for the Bulls. Defensively, Landon Anderson made 40 saves for the Wild, while Billings goalie Simo Huhtanen stopped 35 shots.
Yellowstone Quake 7 vs. Glacier Nationals 1 - The Yellowstone Quake came out of the gate strong, claiming a 7-1 win over the Glacier Nationals. Max Doner, Matt Runyon, Tony Dahlberg (2), Carter Johnson, and Nick Pizzey (2) all scored for the Quake, and Jamahl Eckett netted the solo goal for the Nationals. In net, Brady Anderson made 9 saves for Yellowstone, and Brendan Schultz made 83 saves on the Nationals net.