Gongshow Flow of the Month winner for Movember announced
December 1, 2016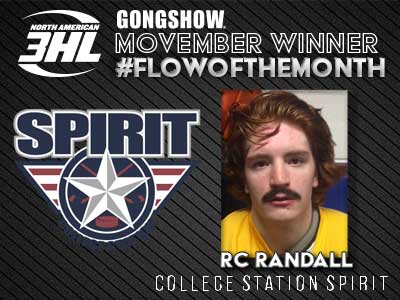 It is the most wonderful time of the year! Yeah sure, the holidays are near, but we are talking about the special time of year for male hair enthusiasts that play hockey. That would be Movember!
With that said, the North American 3 Hockey League (NA3HL) announced its GONGSHOW Flow of the Month winner for Movember 2016.
The winner this month is forward RC Randall from the College Station Spirit.
As stated at the beginning of the month, major points and credit was going to be given for those players who snapped a picture that not only included some nice flow, but some type of recognizable mustache.
Randall, 19, is a veteran forward for the Spirit. The native of Mount Laurel, New Jersey is having a good season so far, ranking 2nd on the team in scoring with 24 points in 20 games played.
This is Randall's (5'7/150) second year playing in the NA3HL, having played for the Sugar Land Imperials last season
Christmas came early for Randall today. This is an epic display of mo and flow that may be one of the best submissions we have seen in Flow of the Month history.
Let's break this thing down... let's start with the flow. There is truly nothing better than ginger flow and Randall just takes things to the next level with his flow here. It is like constant feathered waves of fire that are coming at you. No amount of water is able to contain this auburn blaze of glory
And then he hits us with the 'stache. Just a pure black duster that looks like a charcoal caterpillar making its way across the upper lip. In Movember terms, this muzzy is called 'The Checker.' Well, Randall checked himself at the gates of flowdom and just strutted right through with this amazing combination.
A great effort in both the hair and mustache department and definitely one of the MVP's behind the NA3HL's Movember campaign. Congrats Jordan… and for his effort, he will be receiving a GONGSHOW Gear hat.
GONGSHOW is the exclusive sponsor of the Flow of the Month promotion exclusively on the NA3HL and GONGSHOW Twitter sites
@NA3HL
and
@GONGSHOWGEAR
. Fans and players alike are encouraged to submit photos of their best 'hockey hair' or 'flow' via Twitter by the end of every month during the regular season.
To enter the contest for the month of December, submit your best
#FlowoftheMonth
pictures by December 31st to
@NA3HL
and
@GONGSHOWGEAR
. Winners will be selected on January 1st and will receive a GONGSHOW Gear hat. Special consideration will be given to those who not only have the best flow, but who also accompany it with a moustache.
GONGSHOW Gear Inc. (Gongshow) is the Official Lifestyle Hockey Apparel of the NAHL and NA3HL. GONGSHOW is recognized as the hockey good industry's premier manufacturer of innovative, high quality, fashionable and trend setting clothing apparel for hockey athletes of all ages and abilities.