March 3, 2017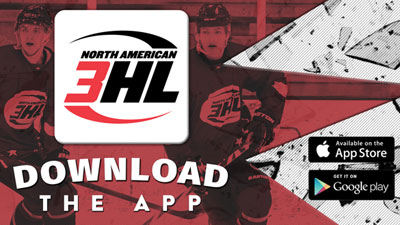 This weekend marks the second to last weekend of the regular season in the NA3HL with some things still be decided.
Follow the games on the NA3HL App:
All eyes will be on the Frontier Division this weekend as Yellowstone and Great Falls battle for the division title as all the teams will play their final regular season games before beginning the playoffs next weekend.
In the other divisions, champions still need to be decided in the South and the West with the Texas Jr. Brahmas and Granite City Lumberjacks leading the way respectively in those divisions.
The Coastal and Northeast Divisions feature the best races to decided the final playoff spot in each of who will get in and who will go home.
Friday, March 3rd
Nashville at Point Mallard - 11:00 AM CST
College Station at Atlanta - 7:00 PM EST
Pittsburgh at Toledo - 7:00 PM EST
Jersey Shore at Skylands - 7:30 PM EST
Evansville at Cincinnati - 8:00 PM EST
Chicago at La Crosse - 7:00 PM CST
Alexandria at Rochester - 7:05 PM CST
Granite City at Willmar - 7:10 PM CST
St. Louis at North Iowa - 7:30 PM CST
New England at Northeast - 8:30 PM EST
Lockport at Roc City - 8:30 PM EST
New Ulm at Wisconsin - 7:30 PM CST
Texas at Euless - 8:00 PM CST
Glacier at Helena - 7:05 PM MST
Billings at Bozeman - 7:30 PM MST
Great Falls at Yellowstone - 7:30 PM MST
Saturday, March 4th
College Station at Atlanta - 3:00 PM EST
Northeast at New England - 3:50 PM EST
Point Mallard at Nashville - 6:00 PM CST
Pittsburgh at Toledo - 7:00 PM EST
L/A at Binghamton - 7:30 PM EST
Cape Cod at Maine - 7:30 PM EST
Southern Tier at Metro - 7:30 PM EST
Syracuse at Skylands - 7:30 PM EST
West Michigan at Wooster - 7:45 PM EST
Cincinnati at Evansville - 7:00 PM CST
Chicago at La Crosse - 7:00 PM CST
New Ulm at Wisconsin - 7:00 PM CST
Alexandria at Willmar - 7:10 PM CST
Granite City at Breezy Point - 7:30 PM CST
Texas at Euless - 7:30 PM CST
St. Louis at North Iowa - 7:30 PM CST
East Coast at Lockport - 9:00 PM EST
Helena at Glacier - 7:30 PM MST
Bozeman at Missoula - 7:30 PM MST
Great Falls at Yellowstone - 7:30 PM MST
Sunday, March 5th
College Station at Atlanta - 10:30 AM EST
Cape Cod at Maine - 11:00 AM EST
L/A at Binghamton - 11:30 AM EST
Syracuse at Skylands - 12:00 PM EST
Southern Tier at Metro - 12:45 PM EST
West Michigan at Wooster - 1:00 PM EST
Chicago at La Crosse - 1:00 PM CST
East Coast at Lockport - 2:00 PM EST
Wisconsin at Peoria - 1:15 PM CST
Alexandria at Granite City - 7:30 PM CST