Metro forward Winch makes NCAA commitment
March 6, 2017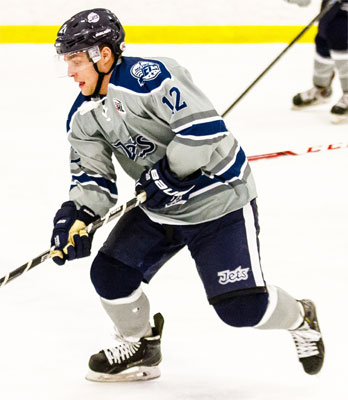 By Matt Mackinder, Metro Jets
Back in December, Metro Jets goaltender Jake Gwillim committed to attend and play hockey at NCAA Division III Aurora University.
Next season, he'll be facing one of his current Jets teammates as on Tuesday, forward Hayden Winch decided to attend and play hockey for Trine University, a first-year program in 2017-18 that will play with Aurora in the Northern Collegiate Hockey Association.
Trine is located in Angola, Ind., in the northeast corner of the state, roughly 170 miles from Fraser Hockeyland.
"The opportunity arose around early December when Trine showed interest," said Winch, a 19-year-old forward out of Plymouth, Mich. "The school has a fantastic business program that really caught my eye. The new hockey program also is very cool and they will play in a tough league with some great competition. Playing against 'Gwill' at Aurora should be fun as well.
"I have no idea really where I may fit in, but my style of play adds a little grit along with some skill, so I hope to contribute often for the team."
In 17 games since joining the Jets in mid-December, Winch has compiled 14 points in six goals and eight assists. He began the season in the Saskatchewan Junior Hockey League and then landed closer to home in the Northern Ontario Junior Hockey League before playing his first game with the Jets on Dec. 10 and scoring two goals in a 7-3 win at home over West Michigan.
"My decision to come here was a journey," Winch said. "Playing with (Jets goalie Andrew) Kormos last year (with the Belle Tire 18U AAA team) and being best buds with Evan Newel were a couple incentives. Coming from the Saskatchewan League, I was really only happy to be back playing somewhere I was comfortable and could play my best."
Jets coach-GM Justin Quenneville has seen Winch steadily improve in the 10 weeks he's been in town and is elated to see him earn a college opportunity.
"'Winchy's' journey here was unique, but we were looking to add a few pieces up front to add a little punch to our lineup," said Quenneville. "He hasn't disappointed and also caught the attention of Trine's staff. Ironically enough, (Trine assistant coach) Dan Mayes made an appearance early in training camp last summer and maintained contact with a few players on our team that he liked. Winch chose the right time to play for us and Dan liked what he saw.
"We want to congratulate Hayden and expect a few more announcements in the near future as well."
Winch added that suiting up for the Jets this season has been "a blessing."
"Coming from two previous teams and not having the best time, I came here and the guys all took me in as family," said Winch. "Also, playing for Coach Q and Coach Jamie (Lovell) has been great for my development and I can't ask for two better coaches."