Billings Bulls name Jensen as new head coach
March 23, 2017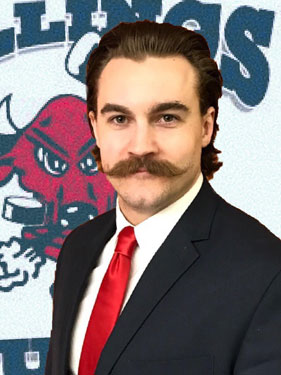 The Billings Bulls of the NA3HL have announced that Jimmy Jensen has been named the team's new head coach.
As a native of Maplewood, Minnesota, Jensen comes to the Bulls with a lifetime of hockey knowledge.
Jensen began his coaching career in the NA3HL in the 2014-15 season, when he joined the Minnesota Flying Aces organization. Starting the season as the Aces' assistant coach, Jensen went on to take over the head coach title midway through the season. After the completion of his first season, he remained at the helm as the Aces' head coach for the 2015-16 campaign.
"I am extremely excited for this opportunity," said an eager Jensen. "The Billings Bulls have had a long-standing reputation as a top-notch organization. The city of Billings has been a great destination location to live, and play junior hockey, for the past 24 years."
The well-rounded Jensen originally made the move to coaching after a lengthy career on the ice, which includes years of NCAA and professional playing experience.
Commenting on the presence of junior hockey in Billings, Jensen said, "There is a great fan base in the city of Billings. The fans have supported the team since the days of their first season, back when they played in the NAHL."
Looking ahead, the city of Billings can expect a new revival of the Bulls with Jensen behind the bench in the 2017-18.
"The team will include a roster of players who play the game the right way," says Jensen. With his coaching style, Jensen plans to provide the community with exciting hockey to watch on the ice.
"My goal is to give the community a quality brand of hockey every night," said Jensen. "I'm excited to get this program back to the winning ways that the great city of Billings is used to."