West Report: Ice Dogs streak into December
December 14, 2010
by Brian McDonough | NAHL.com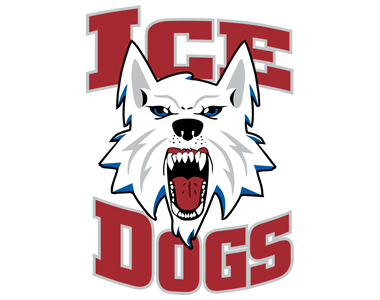 The Fairbanks Ice Dogs certainly rang in the holiday season right, going a perfect 5-0 to begin the month of December.

After skating to a three-game sweep over Dawson Creek Dec. 2-4, the Ice Dogs continued their winning ways last weekend with two more victories over Kenai River.

"I think the guys have started to pay more attention to details within the structure we've given them," said Ice Dogs head coach Josh Hauge, whose team improved to 19-9-2 on the season. "That and we're using our creativity and skill more to make plays, which is important."

The Ice Dogs' early December surge has been a team effort. Forwards Tyler Voigt, Zach Vierling and Matt Millis have shown tremendous work ethic and are leading by example, according to Hauge, with dynamic forwards Jared Linnell and Tayler Munson, both Alaska-Fairbanks recruits, establishing themselves as difference-makers offensively.

On the defensive side, Brock Carlston, Sean O'Rourke, Pete Spratte and Oli Kotvan are delivering consistent performances in addition to providing valued leadership.

"They've done a great job helping our younger D come along and have been playing a lot of great minutes for us," said Hauge.

A pair of North American Prospects Hockey League graduates are also starting to find their way, as forwards Alec Hajdukovich and Gabe Levin, both of whom played for the California Titans' 18U team a year ago, are assuming pivotal roles with the Ice Dogs.

"They've really stepped up their games and have started to gain confidence," said Hauge, whose team is riding a six-game winning streak. "Now they're being looked upon in key situations."

Defenseman Preston Hodge has shown steady improvement, said Hauge, and the expected returns of forwards Charlie Thauwald, Alexander Jensen and John Stompohar from injury should only bolter the Ice Dogs' attack.

"I'm very excited to have those three guys back," said Hauge.

The goaltending tandem of veteran Joe Phillippi and newcomer Steve Sperry, who have nearly split minutes between the pipes, also continues to prove itself as a reliable pair.

"I've been very pleased with our goaltending," said Hauge. "Steve has been a solid, steady first-year guy and Joe is a leader; he's been a proven winner for us in the past and continues to be."

And, with two Division I commitments to date in Linnell and Munson, more winning should lead to more good news on the college front.

"We have a lot of guys who are going to be very good college hockey players," Hauge estimated. "I expect, in the next month or so, to start seeing a lot of guys make decisions."

Before the break, the Ice Dogs, who trail division-leading Alaska by two points but have two games in hand over the Avs, head to Fresno for three games this week beginning on Wednesday. The Ice Dogs took two of three games over the Monsters in Fresno in early November.

"We've had are ups and downs, but I'm happy with the direction we're headed," said Hauge.

WEST DIVISION NOTEBOOK

ALASKA AVALANCHE: Forward Blake Huppert, a 20-year-old from Wasilla, Alaska, came up big as the Avs went 2-1 against Dawson Creek, scoring two goals and two assists. "Blake proved to be one of the most dominant players on the ice last weekend and throughout the first half for us," said head coach Brian Huebel. "He continues to play at a high level in all areas of the game."

DAWSON CREEK RAGE: Forward Dakota Mason, an 18-year-old from Edmonton who leads the Rage in scoring with 24 points (15 goals), notched the game-winning marker in Dawson Creek's 2-1 triumph over Alaska on Friday.

FRESNO MONSTERS: In a deal to finalize an offseason trade that sent former Alpena/Corpus Christi defenseman Tom Hilbrich to Fresno, the Monsters shipped forward Josh Obregon to Corpus Christi. Obregon, a 19-year-old from Omaha, Neb., collected two goals for seven points in 22 games with the Monsters.

KENAI RIVER BROWN BEARS: Despite going 0-1-1 against Fairbanks last weekend, forward Brad Duwe rang up a goal and three assists for the Brown Bears. The 18-year-old from Soldotna, Alaska, has 26 points (seven goals) through 24 games this season.

WENATCHEE WILD: With last weekend off, the Wild heads to Dawson Creek this week for a three-game series beginning in Wednesday. Forward Ben Carey, an Air Force recruit, has points in his last four games (four goals, three assists).