Euless defenseman Dudley makes college commitment
May 23, 2017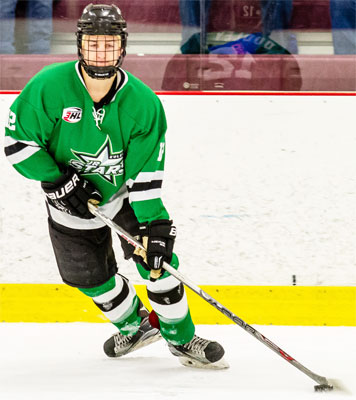 The Euless Jr. Stars of the NA3HL are pleased to announce that defenseman Kyle Dudley has committed to play ACHA Division I hockey for the University of Arkansas.
Dudley, 21, just completed his second and final season playing junior hockey in the NA3HL with the Jr. Stars. The native of Allen, Texas played in 37 games this season and had 16 points from the blueline.
Over the course of his two-year NA3HL career, Dudley (5'9/170) contributed 26 points in his 68 games with the Jr. Stars.
Before playing for the Jr. Stars in the NA3HL, Dudley played youth hockey with the Allen Americans midget team. In 15 games with the Americans, Dudley posted 2 goals, 13 assists, and 16 penalty minutes. While there, Dudley served as the team captain and impressed the Allen coaching staff who characterized him as a "smart, tough offensive defenseman."
As a kid, Dudley learned to skate on roller blades and loved watching his dad play roller hockey. Dudley started playing in an outdoor roller hockey league at seven years old, but switched to ice hockey by age 8.
"I have many friends that attend the University of Arkansas, and they have all told me how amazing the school is. When I went up there to visit the school I had an unbelievable experience. I was able to meet with the coaches and staff and was impressed with the program they have established," said Dudley.
"I'm happy to see Kyle fulfill his goal by playing college hockey. He has worked very hard the past two seasons as one of our top defenseman. Kyle leads by example on and off the ice. He is a complete team player and competes very hard in a practices and games. He should make an impact on the defensive core. Our organization wishes Kyle the best of luck this upcoming season," said Don Babineau, who coached the Jr. Stars this past season.
The University of Arkansas is the only SEC school to field two hockey teams. The Division I team has, since 2015, competed in the Western Collegiate Hockey Conference (learn more here). The Division III team will in 2017-18 begin its eleventh season competing in the Southeastern Collegiate Hockey Conference (learn more here). All home games are played at The Jones Center for Families in Springdale.