Metro defenseman Recchia makes NCAA commitment
May 24, 2017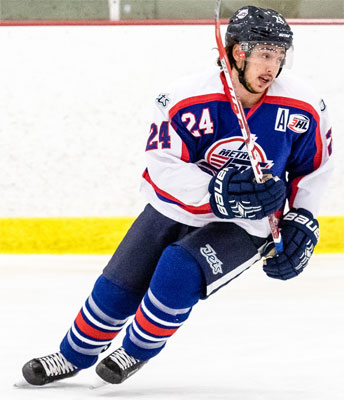 By Matt Mackinder, Metro Jets
Chalk up another NCAA commitment for the NA3HL's Metro Jets.
Defenseman Jason Recchia, who skated for the Jets from 2015-17, has committed to attend and play hockey at Johnson and Wales University.
Recchia will join graduating Jets captain Graham Day at the NCAA Division III school, which is located in Providence, R.I.
The Wildcats play in the Commonwealth Coast Conference and went 11-12-4 last season, including a 7-10-3 mark in the CCC.
Goaltender Jake Gwillim chose Aurora University during this past season.
"The opportunity came up when I was contacted by the coach (James LaCour) about their interest and mine," said Recchia, a 21-yearold native of Shelby Township, Mich. "I really love the location of the campus, the well-established business program and that my older cousin, Domenic Recchia, played hockey there (from 2008-12)."
This past season, Recchia posted six goals and 28 points in 43 regular-season games and one assists in 11 NA3HL playoff and Silver Cup National Championship games and in 2015-16, tallied three goals and 23 points in 41 contests to go along with four points in the playoffs and Silver Cup.
"'Recchs' is unique story and a special one for our club in particular," said Jets coach-GM Justin Quenneville. "He came to a tryout completely green to the process and opportunities at the junior level. He made the team through that process and never looked back. He is a team-first guy and brought a consistency to our back end throughout his time here. His versatility for the Jets was instrumental in the continued success for our program over the past two seasons.
"We are happy for his NCAA commitment – he had several options – and wish him the best of luck."
In the classroom at Johnson and Wales, Recchia is leaning towards a curriculum within Business Administration with an eye on Finance.
On the ice, Recchia also knows what he's getting into.
"I see myself fitting in well with the way they play defensively," Recchia said. "And I'm looking forward to playing with 'Dayzer' for the next four years and going through this transition together will really help."
In looking back on his two seasons in Fraser, Recchia leaves town with nothing but positive memories.
"I will always remember this past season with Metro and going undefeated, but most of all, I will never forget all my teammates from both years and the coaching staff," said Recchia. "Every single player and coach had a huge impact in my life and I will never forget them.
"The people I thank the most are my family. They let me have the opportunity to go away to school and gave me their support thought the whole process."
And as the Jets will have several new faces next season, Recchia knows the team's development philosophy will not change and wants new players to realize that.
"My advice for future Jets is to enjoy every minute of the junior experience because you can only play for a certain amount of time," Recchia said. "So make the most of it."