November 17, 2017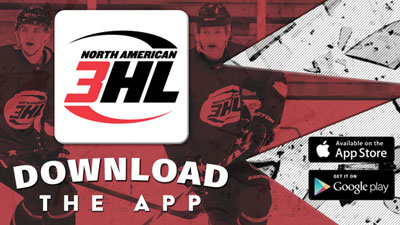 38 games are on the slate this weekend in the NA3HL as teams start to prepare for the league-wide NA3HL Showcase, which will take place in exactly one month.
The 2017 NA3HL Showcase, which will take place from December 17-19, 2017 at the Schwan Super Rink in Blaine, MN. The NA3HL Showcase schedule will be released the week of November 27th. The schedule will pair up evenly matched teams against one another based on the standings at that time, which is designed to have cross-divisional games with balanced competition. All NA3HL teams will play three regular-season games at the Showcase, which is annually one of the most well-attended and scouted events of the entire season for the league, attracting college and junior scouts alike.
The weekend offers several intriguing match-ups in the league. That includes some old-time NA3HL rivalries across the league as 1 and 2 face-off in the East with Metro hosting Pittsburgh. The Midwest Division 1st and 2nd place teams also clash this weekend as St. Louis hosts Peoria.
Follow the games on the NA3HL App:
Friday, November 17th
New England at L/A - 7:00 PM EST
Wooster at Toledo - 7:00 PM EST
Roc City at Skylands - 7:20 PM EST
Southern Tier at Lansing - 7:30 PM EST
Maine at Long Beach - 7:30 PM EST
North Iowa at Rochester - 7:05 PM CST
Granite City at Alexandria - 7:10 PM CST
Breezy Point at New Ulm - 7:10 PM CST
Evansville at Wausau - 7:10 PM CST
Wisconsin at Willmar - 7:30 PM CST
Great Falls at Missoula - 7:30 PM MST
Yellowstone at Bozeman - 7:35 PM MST
Saturday, November 18th
Southern Tier at Lansing - 1:00 PM EST
L/A at Cape Cod - 5:00 PM EST
Peoria at St. Louis - 4:00 PM CST
New England at Northeast - 5:30 PM EST
Roc City at Skylands - 6:40 PM EST
Louisiana at Point Mallard - 6:00 PM CST
Niagara Falls at Binghamton - 7:30 PM EST
Pittsburgh at Metro - 7:30 PM EST
Toledo at Wooster - 7:45 PM EST
Maine at Long Beach - 8:05 PM EST
College Station at Texas - 7:05 PM CST
Evansville at Wausau - 7:10 PM CST
New Ulm at Breezy Point - 7:30 PM CST
Alexandria at Granite City - 7:30 PM CST
Rochester at North Iowa - 7:30 PM CST
Wisconsin at Willmar - 7:30 PM CST
Missoula at Great Falls - 7:30 PM MST
Helena at Bozeman - 7:35 PM MST
Sunday, November 19th
Roc City at Jersey Shore - 11:45 AM EST
Northeast at New England - 11:50 AM EST
Niagara Falls at Binghamton - 12:30 PM EST
Pittsburgh at Metro - 12:45 PM EST
Peoria at St. Louis - 1:00 PM CST
Louisiana at Point Mallard - 1:30 PM CST
College Station at Texas - 2:15 PM CST
L/A at Cape Cod - 3:30 PM EST