December 8, 2017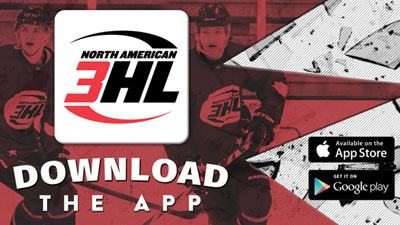 The countdown is on… just 9 days remain until the beginning of the 2017 NA3HL Showcase, which will take place from December 17-19 at the Schwan Super Rink in Blaine, Minnesota.
With 36 games scheduled Friday-Sunday, this weekend is the final full one before the Showcase and the end of 2017.
While the race for the top spot in the West Division remains a close one, all the other seven divisions have some separation from the team at the top of the standings vs. their divisional competitors.
The NA3HL continues its tradition of serving as the best training ground of its kind in the country by providing the best exposure and developmental vehicles available for student-athletes at the Tier III junior level. The NA3HL has already seen 20+ call-ups to the NAHL this season.
Follow the games on the NA3HL App:
Friday, December 8th
Cape Cod at L/A - 7:00 PM EST
Southern Tier at Toledo - 7:00 PM EST
Metro at Lansing - 7:30 PM EST
Northeast at Long Beach - 7:30 PM EST
Oswego at Binghamton - 8:00 PM EST
New Ulm at Alexandria - 7:10 PM CST
Wisconsin at Wausau - 7:10 PM CST
Granite City at Breezy Point - 7:30 PM CST
Rochester at North Iowa - 7:30 PM CST
Skylands at Roc City - 8:30 PM EST
Yellowstone at Gillette - 7:05 PM MST
Great Falls at Helena - 7:05 PM MST
Texas at Mid Cities - 8:15 PM CST
Bozeman at Missoula - 7:30 PM MST
Saturday, December 9th
Atlanta at Louisiana - 4:00 PM CST
Cape Cod at Northeast - 7:00 PM EST
Toledo at Lansing - 7:30 PM EST
L/A at Maine - 7:30 PM EST
Southern Tier at Metro - 7:30 PM EST
St. Louis at Peoria - 6:45 PM CST
New England at Long Beach - 8:05 PM EST
North Iowa at Rochester - 7:05 PM CST
Granite City at Alexandria - 7:10 PM CST
Willmar at New Ulm - 7:10 PM CST
La Crosse at Wausau - 7:10 PM CST
Skylands at Roc City - 8:30 PM EST
Yellowstone at Gillette - 7:05 PM MST
Missoula at Helena - 7:05 PM MST
Sunday, December 10th
Skylands at Roc City - 12:00 PM EST
Oswego at Binghamton - 12:30 PM EST
Pittsburgh at Wooster - 1:00 PM EST
Northeast at L/A - 2:00 PM EST
St. Louis at Peoria - 1:15 PM CST
Mid Cities at Texas - 2:15 PM CST
Atlanta at Louisiana - 4:00 PM CST
Wisconsin at Wausau - 7:10 PM CST