February 16, 2018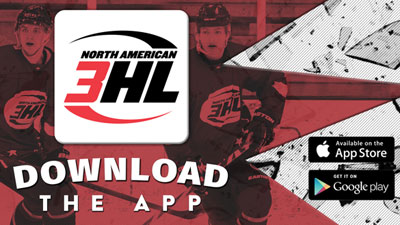 Just four weekends remain in the 2017-18 NA3HL regular season as time is ticking on teams to clinch a Fraser Cup Playoff spot, or win their division.
Only two division regular season titles have been clinched to date (St. Louis, Binghamton), but several more teams are on the cusp of winning their divisions including the Metro Jets, Yellowstone Quake, and Texas Brahmas.
Several other teams are on the cusp of clinching a playoff spot, including the Lansing Wolves in the East, the Skylands Kings in the Northeast, the Point Mallard Ducks in the South, and the Willmar WarHawks in the West.
Follow the games on the NA3HL App:
Friday, February 16
Louisiana at College Station - 5:30 PM CST
Metro at Southern Tier - 7:00 PM EST
Wooster at Lansing - 7:30 PM EST
New England at Long Beach - 7:30 PM EST
Oswego at Binghamton - 8:00 PM EST
Peoria at Evansville - 7:00 PM CST
Granite City at Wisconsin - 7:00 PM CST
La Crosse at Rochester - 7:05 PM CST
Wausau at Breezy Point - 7:30 PM CST
St. Louis at North Iowa - 7:30 PM CST
New Ulm at Willmar - 7:30 PM CST
Bozeman at Gillette - 7:05 PM MST
Yellowstone at Helena - 7:05 PM MST
Roc City at Skylands - 9:10 PM EST
Missoula at Great Falls - 7:30 PM MST
Point Mallard at Mid Cities - 8:30 PM CST
Saturday, February 17
Wooster at Lansing - 1:00 PM EST
Peoria at Evansville - 12:15 PM CST
Louisiana at College Station - 5:30 PM CST
Metro at Pittsburgh - 6:30 PM EST
Roc City at Skylands - 6:40 PM EST
Maine at Northeast - 7:00 PM EST
Binghamton at Oswego - 7:30 PM EST
Granite City at Wisconsin - 7:00 PM CST
New England at Long Beach - 8:05 PM EST
La Crosse at Rochester - 7:05 PM CST
Alexandria at New Ulm - 7:10 PM CST
Wausau at Breezy Point - 7:30 PM CST
Point Mallard at Mid Cities - 7:30 PM CST
St. Louis at North Iowa - 7:30 PM CST
Bozeman at Gillette - 7:05 PM MST
Yellowstone at Helena - 7:05 PM MST
Great Falls at Missoula - 7:30 PM MST
Sunday, February 18
Southern Tier at Pittsburgh - 11:40 AM EST
Niagara Falls at Skylands - 12:00 PM EST
Binghamton at Oswego - 1:00 PM EST
Maine at L/A - 2:00 PM EST
Alexandria at Willmar - 2:00 PM CST