March 9, 2018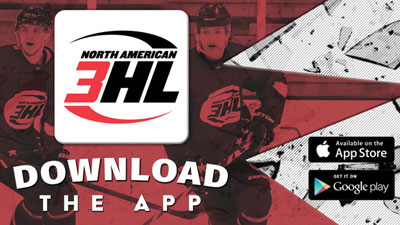 It all comes down to this, the final weekend of the 2017-18 NA3HL regular season!
Entering the final weekend, there still remains one division, the West, without a regular season champion. While the New Ulm Steel are in the driver's seat and control their own destiny, the Granite City Lumberjacks on hot on their heels just two points back and with two more wins.
Also in question is the NA3HL's overall regular season champion. In the driver's seat and controlling their own destiny for that title is the Binghamton Junior Senators, who if they win their last three games, will win the NA3HL's regular season and will be the #1 overall seed heading into the NA3HL Fraser Cup Playoffs.
The final playoff spot will be captured in the East Division between either the Wooster Oilers or Southern Tier Xpress. Each team plays three games this weekend with the Oilers holding a four point edge. However, the Xpress have an equal number of wins (20).
A 2018 NA3HL Fraser Cup Playoff schedule will be posted early next week.
NA3HL regular season tie-breaking policy: At the conclusion of the NA3HL regular season, Clubs that have an equal amount of points shall have their final position in the NA3HL standings determined by applying the following tie breaking procedures:
A. Most wins during the regular season.
B. Head to head competition during the regular season.
C. Goal differential in head to head competition during the regular season.
D. Total goal differential during the regular season.
E. Coin flip.
Follow the games on the NA3HL App:
Friday, March 9
Louisiana at College Station - 5:30 PM CST
New England at L/A - 7:00 PM EST
Southern Tier at Toledo - 7:00 PM EST
Pittsburgh at Lansing - 7:30 PM EST
Skylands at Long Beach - 7:30 PM EST
Metro at Wooster - 7:45 PM EST
Oswego at Binghamton - 8:00 PM EST
Wausau at Rochester - 7:05 PM CST
La Crosse at Alexandria - 7:10 PM CST
New Ulm at Breezy Point - 7:30 PM CST
Niagara Falls at Roc City - 8:30 PM EST
Granite City at Willmar - 7:30 PM CST
Bozeman at Great Falls - 7:30 PM MST
Helena at Missoula - 7:30 PM MST
Gillette at Yellowstone - 7:30 PM MST
Saturday, March 10
Pittsburgh at Lansing - 1:00 PM EST
Mid Cities at Texas - 2:15 PM CST
Cape Cod at New England - 3:50 PM EST
Louisiana at College Station - 5:30 PM CST
Atlanta at Point Mallard - 6:00 PM CST
Southern Tier at Toledo - 7:00 PM EST
Binghamton at Oswego - 7:30 PM EST
Peoria at Wooster - 7:45 PM EST
Wisconsin at St. Louis - 7:00 PM CST
Skylands at Long Beach - 8:05 PM EST
Wausau at Rochester - 7:05 PM CST
La Crosse at Alexandria - 7:10 PM CST
North Iowa at New Ulm - 7:10 PM CST
Willmar at Granite City - 7:30 PM CST
Helena at Missoula - 7:30 PM MST
Great Falls at Bozeman - 7:35 PM MST
Sunday, March 11
Long Beach at Skylands - 12:00 PM EDT
Binghamton at Oswego - 1:00 PM EDT
L/A at Maine - 1:10 PM EDT
Northeast at New England - 1:20 PM EDT
Roc City at Southern Tier - 2:00 PM EDT
Wisconsin at St. Louis - 1:00 PM CDT
Atlanta at Point Mallard - 1:30 PM CDT
Mid Cities at Texas - 2:15 PM CDT
Wausau at North Iowa - 5:00 PM CDT
Louisiana at College Station - 5:30 PM CDT
Peoria at Wooster - 6:30 PM EDT