Wausau defenseman Rentner makes college commitment
March 15, 2018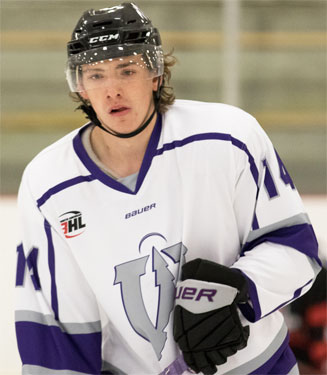 The Wausau RiverWolves of the NA3HL are please to announce that defenseman Ron Rentner has committed to play ACHA Division I hockey for the Robert Morris University-Illinois Eagles. Renter will enroll begining with the 2018-19 season.
The 6'4/205 lbs right handed shot had been on the school's radar for some time. The team, the #6 ranked squad at the ACHA Division I level, will be losing two defensemen to graduation.
The native if Chicago, Illinois, has had a career season for Wausau this year. After staring the season with the Wisconsin Whalers, where he had just one assist in 11 games, Rentner then was traded to Wausau where he has since recorded 24 points in 37 games played for the RiverWolves.
"Robert Morris is a solid academic school right in the heart of the great city of Chicago," said Rentner. "The hockey program has deep roots, has a tradition of winning and of developing talent. I'm excited to attend and to wear the maroon and gold."
"On behalf of the entire RiverWolves organization, I would like to congratulate Ron on his commitment to RMU. Ron played a vital role for us this season, and was a tremendous asset and leader to our team. I am very happy to see Ron go to college to get his education, but am also thrilled that he is able to continue to play hockey at a high level," said Wausau head coach Tim Brownell.
"We're very happy having Ron come here," said Mason Riley, Director of Hockey Operations. "He's a great academic fit, and he fills a real need on the backline in adding to our size and physical presence. The bulk of our roster has been built with players from the NA3HL, and we look forward to continuing that association, one that has helped make us a perennial Top 10 program."