Friday Finals: Brahmas win South, advance to Fraser Cup
March 24, 2018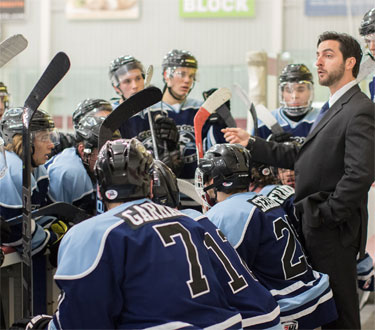 South Division Finals, Game 2: Texas Brahmas 7 @ Mid Cities Jr Stars 2 (Texas wins series 2-0) - The Texas Brahmas scored four in the third to secure a 7-2 win - and spot in the Fraser Cup Championship - over the Mid Cities Jr Stars. Kyle Cote notched a hat trick, and Cameron Bickford (2), Vincent Dekumbis, and Michael Redmon also scored for the Brahmas, while Luke Bombardir, Hunter Bersani, Redmon, Bickford (2), Mark Strazisar, Jarrod Croswell, and Dekumbis recorded assists. Nick Sheridan and Joey McIntyre scored for the Jr Stars, with help from McIntyre, Trey Rooney, Matt Greco, and Conor Simpson. Texas' Tyler Myers made 22 saves, while Matthew Lenz stopped 19 shots for Mid Cities.
Central Division Finals, Game 1: La Crosse Freeze 3 @ North Iowa Bulls 2 (La Crosse leads series 1-0) - The North Iowa Bulls scored first, but three in a row from the La Crosse Freeze helped them clinch a 3-2 victory in Game One of the Central Division finals. Clayton Lackey and Thomas Magnavite (2) scored for the Freeze, with assists from Brady Lindauer, Alec Seeger, and Toon De Schepper. For the Bulls, Matt Dahlseide and Tyler Bump found the back of the net, with help from Jarod Blackowiak, Dan Sandvig, and Cameron Fagerlee. La Crosse's Will Graves made 31 saves for the win, and Colin Cain stopped 29 shots for North Iowa.
Northeast Division Finals, Game 1: Niagara Falls PowerHawks 0 @ Binghamton Junior Senators 11 (Binghamton leads series 1-0) - A hat trick from Ryan Reifler helped the Binghamton Junior Senators to an 11-0 shutout win over the Niagara Falls PowerHawks in game one of the Northeast division finals. Eric Melso, Dan Espe, Ryan Flanagan, Michael Padgeon (2), Gregory Simmons, CJ Smith, and Jeremy Wilber also scored for the Junior Senators, and Dominik Bogdziul (3), Tim O'Connor (2), Geoffrey LaMorre (3), Cody Dearing, Reifler, Flanagan, Rory Gresham (2), Dinmukhamed Dzhangarashev, Padgeon, William Darling, and Smith (2) recorded assists in the match. Binghamton goaltender Brady Anderson made 8 saves in the match, while Kris Augustine and Alvin Dow notched 12 and 24 saves each for Niagara Falls.
Frontier Division Finals, Game 1: Helena Bighorns 2 @ Yellowstone Quake 5 (Yellowstone leads series 1-0) - The Yellowstone Quake scored three in a row to secure a 5-2 win over the Helena Bighorns in game one of the Frontier division playoffs. Cole Stewart, Jake Ford, Ian Doner, and Riley Buller scored for the Quake, with assists from Ty Proffitt, Mason Stewart, C. Stewart, and Nolan Willoughby. Ben Kottmeier and Luc Cross scored for the Bighorns, with Hayden Seitz, and Dane Rieger (2) recording assists. Yellowstone's Reid Waszczenko made 20 saves, while Nick Battaglia stopped 35 shots for Helena.
West Division Finals, Game 1: New Ulm Steel 1 @ Granite City Lumberjacks 6 (Granite City leads series 1-0) - A hat trick from Braden Altena helped the Granite City Lumberjacks to a 6-1 win over the New Ulm Steel in Game One of the West division finals. Brandon Bissett notched two goals for the Lumberjacks, while Chase DiBari recorded one. Jordan Olson (3), Matt Moran, Owen Sikich (2), Brandon Baker (2), DiBari, and Lars Olson recorded assists in the game. For New Ulm, Austin Langworthy recorded the only goal off passes from Jarrett Cammarata and Sam Storlie. David Mulligan made 30 saves for Granite City, while Ryan Kenny stopped 28 shots for the Steel.