RoadRunners, Generals, Quake win on Wednesday
January 7, 2021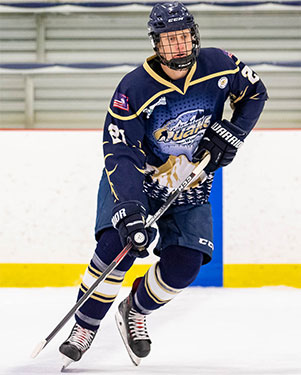 TX RoadRunners 6 vs. Long Beach 3 – RoadRunners forward Tim Marsico was the star of the game, scoring four goals en route to a 6-3 win for Texas. Long Beach opened the scoring on a goal from Xzia Fogelgren. The RoadRunners responded with four straight goals, including three from Marsico and another from Derek Boutin. The Sharks made it close late in the 2nd period as goals from Aleksandr Gamzatov and Mason Mulneaux made it 4-3, but two more goals in the 3rd period from Marsico and Logan Bellar secured the 6-3 win. RoadRunners goalie Jaxon Taylor made 20 saves in the win, while Sebastian Couturier made 28 saves in the loss.
Mid Cities 1 vs. Northeast 10 – Peyton Felix had a natural hat-trick in the 1st period as the Generals cruised to a 10-1 win over Mid Cities in the ongoing Southern Showcase. Felix lit the lamp three times in an 11-minute span to put the Generals up 3-0. Aaron Best added the lone goal for the Stars before the period was done. The lead swelled to 6-1 in the 2nd period as James Clarke, Nicklaus Obourn and Carson Asper scored. The Generals added four more goals in the 3rd period, which included the second of the game for both Obourn and Asper and others from Tyler Kaminski and Deacon More. Generals goalie Espen Reader made 11 saves in the win, while Nahuel Veyan took the loss with 42 saves.
Helena 1 @ Yellowstone 4 – Quake goalie Connor Carroll made 31 saves and Jack Harris scored twice as Yellowstone split their weekday series with the Bighorns thanks to a 4-1 win on Wednesday. The Quake took control early in the 1st period with two goals just :33 seconds apart from Dylan Rumpke and Harris. The Bighorns cut the lead down to one goal early in the 3rd period as Gage Bowerman scored, but the Quake netted two more goals late in the 3rd period including another from Harris and one from Will Sobanski to take home the 4-1 win. Helena goalie Kevin Taunton made 21 saves in the loss.