NAHL announces Combat Hockey 3 Stars of the Week
October 10, 2011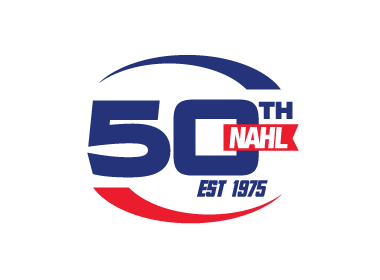 The North American Hockey League (NAHL) today announced the Three Stars of the Week presented by Combat Hockey for the week ending October 9, 2011. The Three Stars of the Week is a weekly feature during the 2011-12 regular season that honors the top performing players each week of the regular season as nominated by their respective teams.
1st Star: Kyle Cook, forward, Springfield Jr. Blues
Cook, 19, recorded three goals and two assists as the Springfield Jr. Blues split a weekend road series against the St. Louis Bandits. On Friday, Cook (6'4/215 lbs.) was kept off the scoreboard in a 5-0 loss, but managed not to pick up a minus. However on Saturday, Cook had a breakout game with a hat-trick and two assists in Springfield's 7-2 win over the Bandits. Cook, who is from Middleburg Heights, Ohio, scored once in the 1st period, twice in the 2nd period and also assisted on the game-winning goal. The five points in one game was a career high for Cook who leads the Jr. Blues in scoring this season with 12 points in 10 games played. "Kyle is a forward that understands how to combine his size with great skill and touch," said Springfield head coach Joe Dibble. "He can score and has become a leader that we look to lead our team on a nightly basis."
2nd Star: Nick Miglio, forward, Bismarck Bobcats
Miglio, 19, mirrored the performance of Cook in that all his points came in one game on the road and that he managed to record a hat-trick and two assists in one game. On Friday, Miglio didn't figure in the scoring, but his Bobcats recorded a 5-2 road win at Dawson Creek. On Saturday, the Boerne, Texas native recorded two goals in the 2nd period, a goal in the 3rd period and two assists in the Bobcats 9-3 win and a weekend sweep at Dawson Creek. Miglio (6'0/170 lbs.) recorded 10 of Bismarck's 45 shots in the game. "Nick's line has been really good. They all three are working well together and provide us with some much needed depth," said Bismarck head coach Layne Sedevie. "He is strong on the puck and can skate really well. I think he is starting to get reward for the hard work he has put in the last season and a half."
3rd Star: Jack Prince, forward, Texas Tornado
Prince, 20, was instrumental in the Tornado weekend home sweep over the New Mexico Mustangs this past weekend, recording five assists in the two games, while also being a +3. On Friday, Prince (6'4/205 lbs.) picked up three assists including one on the game-winning goal as Texas shutout New Mexico, 6-0. On Saturday, Prince, who hails from England, had two more assists in a 5-1 Texas win over the Mustangs. Prince is the leading scorer on the Tornado this season with 11 points in eight games played. "Jack continues to be one of the best players in the league," said Tornado head coach Tony Curtale. "We are happy to have him back this season and he has stepped into a leadership role as captain. He can take over a game with his size and his skills, and he is a definite NCAA Division I prospect."
Other players nominated were (alphabetical): Paul Bourbeau, goaltender, Kenai River Brown Bears – Brendan Bradley, forward, Fresno Monsters – Tommy Burke, goaltender, Bismarck Bobcats – Robbie Davis, forward, Topeka RoadRunners - Danny Fetzer, forward, Corpus Christi IceRays – Alex Globke, forward, Port Huron Fighting Falcons – Brett Lubanski, forward, Kenai River Brown Bears – Chad McDonald, forward, Kalamazoo Jr. K-Wings – Reid Mimmack, goaltender, Texas Tornado – Tyler Parks, goaltender, Springfield Jr. Blues – Robbie Payne, forward, Kalamazoo Jr. K-Wings – Kody Polin, forward, Port Huron Fighting Falcons – Anton Racklin, defenseman, Fairbanks Ice Dogs – Pijus Rulevicius, forward, Janesville Jets – Anthony Stolarz, goaltender, Corpus Christi IceRays – Kyle Sucher, defenseman, Fresno Monsters.