Avalanche relishes comforts of home
October 20, 2008
by By Brian McDonough | NAHL.com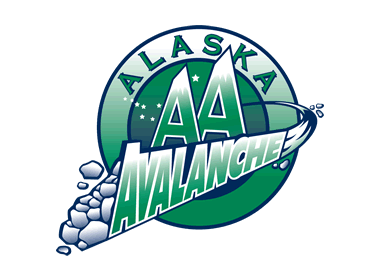 Read the full NAHL Weekly Release.
Exactly one month after the first puck dropped at the NAHL Showcase Tournament in Minnesota, the Alaska Avalanche took to its home ice for the first time last weekend and marked the occasion with a two-game sweep over the Kenai River Brown Bears.

"It was great to finally play at home, and to get two wins was great both for our team and also for the community," said Avalanche head coach Dave Boitz, whose team sits atop the NAHL's West Division with a 6-2 mark.

Alaska opened its weekend with a 4-3 shootout win over the Brown Bears on Friday. Down 3-0, the Avalanche was able to force the shootout thanks to goals from Derek Kimbro, Tyler Currier and Logan Rounds. Between the pipes, Austin Maginnis made 35 saves and all four in the shootout.

Robb Haider connected for two goals the next night, including the game-winner, as the Avalanche again came from behind – this time from a pair of two-goal deficits - to best Kenai River, 6-4. Currier and Rounds scored their second goals of the weekend in the victory, while Maginnis turned back 30 shots.

"I was impressed with our perseverance both nights, and the key to our early success has been our tremendous character," said Boitz, whose team has trailed in five of its six victories. "These guys never quit; they hang in there together until the end."

And they also have no troubles spreading around the offense. Six different players lit the lamp for the Avs last weekend, with Haider recording the only multiple-goal game.

"One of our strengths from Day 1 has been our ability to get scoring from all four lines and our defensemen," said Boitz. "It's great not having to rely on one line or one guy to come up with a big goal."

One player the Avalanche is expecting good things from is Currier. Now in his third year with the team, the 20-year-old Anchorage native leads Alaska in scoring with four goals and three assists.

"Tyler is an explosive player who has incredible speed," said Boitz. "He also loves to come to the rink as much as anyone I've ever coached."

Maginnis, whom Boitz coached last season in North Iowa, has also help resurrect the Avs, who have missed the postseason the last two years. The 19-year-old from Mason City, Iowa, along with Andrew Tathum, gives Alaska a more-than-dependable pair between the pipes.

"Austin has been very good. He's never had a chance to get consistent playing time, so I've been trying to do that to see how he responds," said Boitz.

"I've been pleased with his maturation, but I'm not ready to call him my go-to guy because Andrew is also very capable and hasn't gotten much playing time yet, but he'll get his chance as well."

Confident he had a promising group of returning players to work with, Boitz has been more than pleased with how well his first-year players have acclimated to the rigors of the NAHL.

"I've been really impressed with all of our rookies," said the coach. "I knew we had good vets, but our rookies have been terrific."

One area Boitz would like to see improve is his team's focus at the drop of the first puck.

"Our first periods have been awful to say the least," he said. "We need to be much more disciplined and get off to better starts.

"We also need to buy in more to our team defense; we're a little inconsistent in that area."

Midway through an eight-game stretch against the Brown Bears, the final four contests kick off in Kenai River the weekend of Oct. 31-Nov. 1 before wrapping up back in Wasilla on Nov. 7-8.

"We just have to take them game by game," said Boitz, whose club holds a 3-1 advantage over the Bears to date. "They're really talented offensively and you better be ready to play every night as we found out last week when they beat us 8-0."
AROUND THE NAHL
ALASKA AVALANCHE: Ryan Kowal, from Anchorage, tallied a goal and an assist, along with a plus-2 rating, in the Avs' two-game sweep of Kenai River.

ALBERT LEA THUNDER: Mitch Torrel and Josh Botimer struck for goals in the Thunder's 6-2 loss to Alexandria on Friday.

ALEXANDRIA BLIZZARD: Noah Nemgar tallied a goal and two assists as Alexandria went 1-1 last weekend. "Noah is a great two-way player for us," said Blizzard head coach Brad Willner. "He has great vision and can shoot with pinpoint accuracy."

ALPENA ICEDIGGERS: Sam Cheraso recorded two goals last weekend, including the game-winner in the IceDiggers' 4-3 win over Mahoning Valley on Saturday.

BISMARCK BOBCATS: The Bobcats are excited about the addition of John Wickman, whom they acquired from St. Louis earlier this month. "He's won before and knows what it takes to be successful at this level," said Bobcats head coach Byron Pool.

FAIRBANKS ICE DOGS: Third-year forward Andrew McCabe, from Eau Claire, Wis., has committed to the University of Nebraska-Omaha (CCHA) for next season.

KENAI RIVER BROWN BEARS: Chris Annunziato and Jed McGlasson each scored two goals as the Brown Bears dropped a pair of games to Alaska.

MAHONING VALLEY PHANTOMS: With a win on Friday, goaltender Jordan Tibbett improved to 4-0 to compliment a league-best 1.48 goals-against average and .950 save percentage. "The stats like goals-against average are fun," said Tibbett, "but the most important thing is winning. I'm focused on going out there and winning every night."

MARQUETTE RANGERS: Dalimir Jancovic notched a goal and an assist in Marquette's 3-2 shootout loss to the U.S. Under-17 Team on Saturday. "Dalimir is the type of player that can change a game," said Rangers head coach Kenny Miller.

MOTOR CITY MACHINE: Jared Williams potted two goals and an assist as the Machine dropped a pair of games in Traverse City. "We're clicking out there on the same line, and when you have that kind of confidence in your linemates, it makes everything else easier," said Williams.

NORTH IOWA OUTLAWS: With two wins last weekend, the Outlaws extended their unbeaten streak to seven games (6-0-1) and moved into a first-place tie with Alexandria in the Central Division.

OWATONNA EXPRESS: Goaltender Adam Buegler continues to come up big, making all 25 saves in the Express' 1-0 shutout of Bismarck on Saturday.

SPRINGFIELD JR. BLUES: With four goals in three losses to St. Louis, 19-year-old Trent Frey now leads the league with 11 after 11 games.

ST. LOUIS BANDITS: Justin Kirchhevel scored three goals, including a game-winner, and an assist as the Bandits swept a three-game set over Springfield.

TOPEKA ROADRUNNERS: Steve Shafer, from Rochester, Mich., unloaded for four goals and four assists in Topeka's three-game sweep in Wenatchee. He was also a plus-6 for the week.

TRAVERSE CITY NORTH STARS: The North Stars extended their winning streak to seven games with a two-game sweep over Motor City.

TEAM USA: Goaltender Will Yanakeff turned back all 15 shots as the Under-17 Team blanked Marquette on Friday, 4-0.

WENATCHEE WILD: A crowd of over 3,600 packed Wenatchee's brand-new Town Toyota Center for the Wild's inaugural home-opener against Topeka on Thursday.

WICHITA FALLS WILDCATS: Second-year forward Kyle Delaurell, from Mission Viejo, Calif., has committed to the Air Force Academy (Atlantic Hockey) for next season.