NA3HL announces Combat Hockey 3 Stars of the Week
February 12, 2013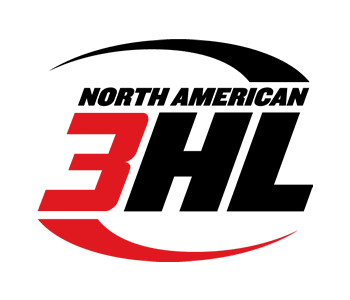 The North American 3 Hockey League (NA3HL) today announced the Three Stars of the Week presented by Combat Hockey for the week ending February 10, 2013. The three stars of the week is an award given each week of the regular season to the top performing players in the NA3HL as nominated by their head coaches.
1st Star: Anders Franke, goaltender, Flint Jr. Generals
In the topsy-turvy world of the NA3HL East Division, the Flint Jr. Generals moved back into 3rd place this past weekend thanks to a three-win week, in which the Jr. Generals beat Michigan twice and Metro once. Backstopping the team in all three wins was 19-year-old goaltender Anders Franke. The native of Zimmerman, Minnesota, allowed just three goals in the three wins and stopped a combined 73 of 76 shots in the three wins, good for a 96% save percentage. On Thursday, Franke (5'7/165) made 16 saves in a 3-2 home win over Metro. On Friday, Franke made 37 saves in a 3-1 win at Michigan. On Sunday, he saved his best for last as he stopped all 20 shots that came his way in a 1-0 shutout of the Mountain Cats. "Anders has been a great addition to the team and each point we get is crucial, so he play this weekend was just what we needed," said Flint head coach Steve Howard. "He is trying to prove that he is a goalie that can play at the next level."
2nd Star: Nick Gnagni, forward, Flint Jr. Generals
It wasn't just goaltending that netted the Jr. Generals three wins this past week. Forward Nick Gnagni, 19, was a big part of the offense as out of the seven goals Flint scored in the three wins, Gnagni recorded a point in five of them. The native of Bloomingdale, Illinois, had a total of five assists and was a +3 in the three victories. On Thursday, Gnagni (5'8/180) set up the first two goals in Flint's 3-2 win over the Metro Jets. A night later, he assisted on all three Jr. Generals goals in a 3-1 win at Michigan. On Saturday, he didn't record a point, but played solid defensively in a 1-0 win over the Mountain Cats. "Nick has been a guy that has flown under the radar, but he brings his lunch pail to the rink and works very hard every day," said Flint head coach Steve Howard. "He is a pure playmaker. His assists this past week were all primary ones that directly set up our goals."
3rd Star: Doug Andrews, forward, Metro Jets
It was a week, or game, to remember for Metro forward Doug Andrews, 20, who helped the Metro Jets win two of their three games this past week to keep their playoff chances alive. The native of Macomb, Michigan, who is closing in on 100 points for the NA3HL career, had a career game in Metro's 9-2 win in Quad City on Sunday. Andrews (5'9/170) set an NA3HL season-high with five goals and eight points in a single game. He also was a +5. The five goals also included the game-winning goal, which came at the end of the 1st period. Of the nine goals scored in the game, Andrews recorded a point in eight of them. "Doug had been a little funk, but the most important thing was he has never stopped working hard," said Jets head coach Jason Cirone. "He finally put it all together and everything he touched seem to go in or produce offense."
Honorable Mention (alphabetical order): Matt Bartels, goaltender, North Iowa Bulls – Mikael Broliden, goaltender, St. Louis Jr. Blues – Riley Corbin, goaltender, Metro Jets – Ian Dvorak, goaltender, Michigan Mountain Cats – Blayne Ellson, defenseman, Granite City Lumberjacks – Jason Hoehn, forward, Quad City Jr. Flames – Ron Lindgren, defenseman, North Iowa Bulls – Harley Manus, forward, Quad City Jr. Flames – Kerry McGlynn, defenseman, St. Louis Jr. Blues – AJ Merritt, defenseman, Twin City Steel – Scott Murray, goaltender, Granite City Lumberjacks – Brody Peterson, forward, Twin City Steel – Kyle Rojem, forward, Michigan Mountain Cats – Austin Turner, forward, Toledo Cherokee – Justin Von Spreecken, defenseman, Three Rivers Vengeance – Ian Wood, forward, Three Rivers Vengeance.