Bulls shine again at NA3HL Showcase
February 22, 2013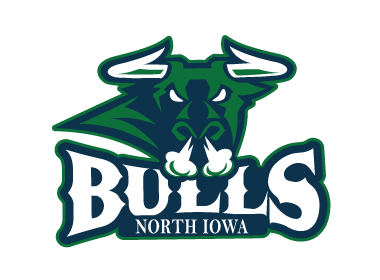 Another showcase, another undefeated record for the North Iowa Bulls. North Iowa opened the campaign on Sunday, February 17th against the East Division leading Cleveland Lumberjacks. Cleveland jumped to a first period lead of 2-0 on a pair of powerplay markers. North Iowa regrouped and refocused in between periods and rattled off the next 5 goals of the contest, all special teams goals. Matt Kroska opened the scoring for the Bulls in the second period with a powerplay goal, and just 19 seconds after Kroska's goal Bulls forward Tony Paulson connected on another powerplay. Three minutes later Jake Johnson added the third consecutive powerplay goal for North Iowa. With a 3-2 lead heading into the second intermission the Bulls knew the next goal was a critical one. Early in the third period Bulls forward Tim Santopoalo pulled off a miraculous feat of scoring two shorthanded goals in a single shift just 50 seconds apart. Cleveland added two third period goals, but Bulls netminder Matt Bartels held on for the 5-4 victory in game one of the Troy Showcase.
Game two of the showcase pitted the Bulls against the Three Rivers Vengeance. Three Rivers is a scrappy young team that plays an aggressive style. North Iowa's depth and strength proved too much for the Vengeance. James Hughes opened the scoring for the Bulls with the first two goals of the game. Taylor Brown, Andrew Halama, Patrick Sivets, and Matt Kroska staked the Bulls to a 6-0 lead. Three Rivers managed a goal late in the third on the powerplay on a deflection in front. Matt Bartels had 25 saves for his second win in two days.
A surging Battle Creek Revolution proved an honorable foe in game three of the showcase. "Rev's" netminder Jackson Steltmann formerly of the North Iowa Bulls played an outstanding game keeping his team in the contest. Bryan Broders, Brandon Anderson, and Jake Johnson scored for North Iowa in the 3-0 final. North Iowa goaltender Jon Narverud made an impressive impression in his first start with the Bulls recording a shutout on 20 saves.
In the showcase finale North Iowa faced the Toledo Cherokee. The Cherokee are in a playoff position in their division. North Iowa opened up a 5-0 lead after 20 minutes. Conor Jonasson and Patrick Sivets notched a pair of first period goals for the Bulls. Eric Behrend also scored in the first. Logan Murphy scored the only goal of the second period. North Iowa outscored the Cherokee 3-1 in the third en route to a 9-1 victory. Taylor Brown, Richie Marenis, and Tony Paulson scored in the third. Jon Narverud made 24 saves to run his weekend save percentage to .977 in his two victories.
North Iowa was the only team to go undefeated in both 3HL showcases this season. The Bulls were 4-0 in the Blaine, MN showcase with victories over Peoria, Queen City, Metro, and the Michigan Mountain Cats.