Battle Creek hopes to build on success
September 30, 2013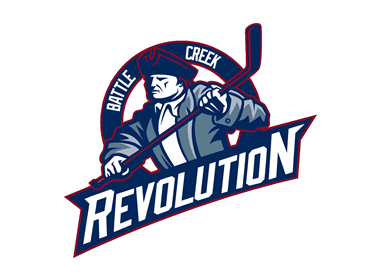 By Will Kowalski, Battle Creek Enquirer
Last season, in its third campaign of existence, the Battle Creek Junior Revolution hockey team finally learned how to win.
And in the process, the Junior Revs just missed making the North American 3 Hockey League playoffs by a single point in the developmental-level, Junior A/Tier III league for players ages 16-21 who aspire to climb the hockey ladder to higher-level junior or collegiate competition.
The Junior Revs' surge toward stability and success last season came under the guidance of first-year head coach and general manager Rod Davidson — a longtime pro and junior and adult hockey instructor and mentor in both the U.S. and Canada.
With Davidson getting his players to buy into his plans of attack on and off the ice, the Junior Revs wound up winning their first game in franchise history last December, and went on to post an overall 48-game, regular-season record of 7-38-1-2 — and having two of its players earn second-team all-NA3HL honors.
The 2013-14 NA3HL season recently got under way. And early on, the Junior Revs have struggled in a league that has grown by five teams and now boasts 22 franchises, with four more franchises on the West Coast set to debut in 2014-15 — making the already-dubbed best Junior A/Tier III league in the country a truly coast-to-coast entity.
In its season opener on Sept. 15, the Junior Revs lost 4-1 on the road to the Michigan Mountain Cats of the NA3HL's Eastern Division. Then, on Sept. 21 and 22 at home at Revolution Arena (The Rink), the Revs dropped 13-3 and 11-0 decisions to new fellow Central Division member Chicago. "We've got 12 kids back from last year, kids who helped build the foundation and won some games and know what it's like to be in a playoff hunt. And now it's just a matter of time for those returning kids and our new kids to get used to the way we play in Battle Creek and play our system of hockey.''
Davidson said that he's also hoping to bolster the Revs' roster in the next few days when North American Hockey League Junior A franchises get down to their limit of 23-player rosters, noting that some NAHL teams are now carrying as many as 27 players until cuts become mandatory on Tuesday, Oct. 1.
"We'll be looking to improve in numbers and ability very soon,'' Davidson said. "We're hoping that the trickle-down effect of picking up some players from the higher-level NAHL will help us add some more skill players to our team, which will make us a better team, too."