Granite City, Northeast, Rochester capture division playoff crowns
March 20, 2022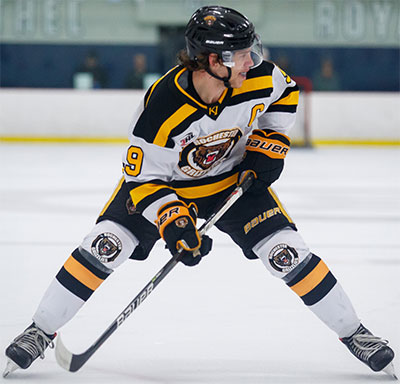 West Division Finals, Game 3: Mason City 2 @ Granite City 6 (Granite City wins series, 2-1) – The Granite City Lumberjacks locked up the West Division Playoff Championship and #2 seed at the Fraser Cup Championship thanks to a 6-2 win in Game 3 of the West Finals against the Toros. Nicholas Richert was the offensive hero for the Lumberjacks with a hat-trick. Granite City opened up a 2-0 lead early in the 1st period as Brett Reed and Hayden Walters lit the lamp. The Toros responded right back as goals from Carter Newpower and Luke Stevens tied the game at 2-2 through 20 minutes. In the 2nd period, Richert's first goal of the game proved to be the go-ahead goal and game-winner. In the 3rd period, Granite City put the game on ice with two more goals from Richert and another from Nick Mountain. Quentin Sigurdon made 21 saves in the win, while Erik Chaffe made 39 saves in the loss.
East Division Finals, Game 3: Danbury 1 @ Northeast 2 (Northeast wins series, 2-1) – Generals goalie Luke Fundator made 24 saves as the Generals edged out a series win over the Jr. Hat Tricks thanks to a 2-1 win in Game 3 on Sunday. The Generals took an early 1-0 lead in the 1st period on a goal from Sean Gorman. Northeast got an insurance goal from Braeden Kennedy early in the 3rd period, which would turn out to also be the game-winner. Danbury cut the lead down to 2-1 with their lone goal from Dylan Walker, but could not find the equalizer as the Generals secured the win and their second straight trip to the Fraser Cup. Danbury goalie Brennan Churchill played well in the loss, making 43 saves.
Central Division Finals, Game 3: Oregon 1 @ Rochester 6 (Rochester wins series, 2-1) – Grizzlies captain and forward Cole Gibson had two goals and an assist to lead the Grizzlies to a convincing 6-1 win in Game 3 of the Central Finals, sending Rochester to their second consecutive Fraser Cup Championship Tournament. The Grizzlies put the game away early with four goals in the 1st period, which included one from Gibson and others from Logan Kroyman, Kade Shea, and Layten Liffrig. The lead increased to 5-0 in the 2nd period as Lyncoln Bielenberg-Howarth scored. Oregon netted their lone goal later in the 2nd period thanks to a power play tally from Sam VanderHoeven. Gibson would add his second goal of the game in the 3rd period. Zach Wiese made 20 saves in the win, while Austin Bartell took the loss with 13 saves in just 13 minutes of action.