South, West, and Frontier bring home Day 1 wins at Top Prospects
February 6, 2023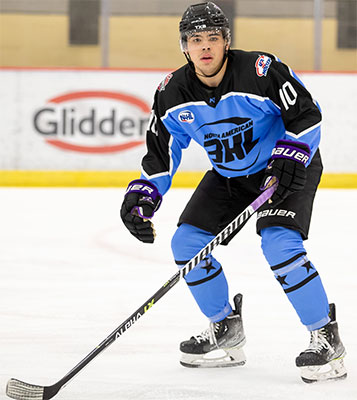 The 2023 North American 3 Hockey League (NA3HL) Top Prospects Tournament got underway on Monday, February 6th. The event is being held from February 6-7, 2023, at the UPMC Lemieux Sports Complex in Cranberry Township, Pennsylvania.
2023 NA3HL Top Prospects schedule (all times eastern):
Monday, February 6th
South 6 vs. East 2
West 5 vs NAPHL 3
Frontier 6 vs. Central 4
Tuesday, February 7th
8:00am: Frontier vs. South
9:30am: NAPHL vs. Central
12:30pm: East vs. West
For more information on the 2023 NA3HL Top Prospects Tournament, please visit: http://na3hl.com/tpt/
Day 1 recaps
South 6 vs. East 2 – Jack Lambert (Louisiana Drillers) and Michael Imala (Texas Brahmas) each scored twice as the South scored the final five goals of the game to beat the East, 6-2. East opened the scoring in the 1st period with a goal from Caiden Hess (Northeast Generals). That was answered by South's first goal, which came from Brody Neish (Louisiana Drillers). The South then took control later in the 2nd period as Lambert and Imala both scored to make it a 3-2 game. In the 3rd period, the South got a goal from Payne Pent (El Paso Rhinos) and the second goals from the night from both Lambert and Imala for the 6-2 win. For Team South, Hunter Hein (Texas RoadRunners) stopped 10 of 11 shots and John Moriarty stopped 17 of 18 shots in the win. For the East, Ian Kangas (Northeast Generals) stopped 13 of 14 shots and Ryan Maguire (Danbury Jr. Hat Tricks) stopped 16 of 21 shots in the loss.
West 5 vs. NAPHL 3 – Coby Weber (Granite City Lumberjacks) scored two goals as Team West broke a 3-3 deadlock late in the 3rd period in a tough 5-3 win over the NAPHL. The score was even after one period with Brody Simko (Esmark Stars) scoring for the NAPHL and Cole Klingbeil (Alexandria Blizzard) answering for the West. The NAPHL went back up by one as Anthony Alvarado (Biggby Coffee) scored eary in the 2nd period. However, West had an answer as Brayden Buckingham (Willmar WarHawks) and Weber scored to make it 3-2. Early in the 3rd period, the NAPHL tied the game as Connor Jalbert (Northeast Generals) scored. However, the West pulled away later in the 3rd period with goals from Weber and Sean Kenny (Alexandria Blizzard). For the West, Nolan LaCosse (New Ulm Steel) made 16 saves on 18 shots and Michael D'Orazio (Willmar WarHawks) made 10 saves on 11 shots in the win. Nikita Volski (Esmark Stars) gave up one goal in the loss, while Michael Manzi (Philadelphia Little Flyers) and Brady Govero (CarShield AAA) each allowed two.
Frontier 6 vs. Central 4 – Silas Hughes (Great Falls Americans) scored two goals to lead Frontier to a 6-4 win over Central. Tyler Bloom (Helena Bighorns) opened the scoring for Frontier, which was answer with a goal from Austin Meers (Rochester Grizzlies) for the Central. Frontier then scored twice on goals from Hughes and Sky Solig (Gillette Wild) to make it 3-1. Hayden Shoemake (Oregon Tradesmen) then scored to make it 3-2 early in the 3rd. Hughes would then add his second of the game to make it 4-2. Central would then tie the game at 4-4 with goals from Carter Watters (Oregon Tradesmen) and Logan Kroyman (Rochester Grizzlies), but the Frontier scored twice in the final two minutes as Hunter Walla (Badlands Sabres) and Josef Lalli (Gillette Wild) both scored. Jake Turek (Gillette Wild) stopped 15 of 16 and Caleb Cross (Butte Cobras) stopped 20 of 23 in the win. Adam Prokop (Milwaukee Power) and Cam Pendleton (Peoria Mustangs) shared the loss.