Links in this section are to external sites
| | | |
| --- | --- | --- |
| | Rich Hart | SUNY-Morrisville |
| | Jake Lissy | Towson University |
| | Sam Hanson | St. Mary's University |
| | Colin Burgess | King's College |
| | Ivan Bilyy | West Virginia |
| | Mark Mannarn | King's College |
| | Thomas Magnavite | St. Mary's University |
| | Brady Lindauer | St. Mary's University |
| | Jake Harris | Illinois State University |
| | Malik Winfield | Southern Illinois University Edward |
View all of the NA3HL College Commitments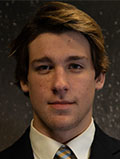 Mike Padgeon
Binghamton Junior Senators
Padgeon may have seen his league scoring lead vanish in January, but still boasted a stout 24 points in just seven games during the month. Averaging over a goal per game, Padgeon found the scoresheet in each of his seven outings, posting a stout five points in four of those and hat-tricks in two. Padgeon's shining moments came at the end of the month in a pair of tense tilts against Northeast, during which the forward bagged back-to-back game-winning goals as part of a six-point outburst across the weekend. Including an assist in his first matchup of February, Padgeon has now logged 41-54—95 in 38 games this season, good for second among NA3HL skaters, with his seven GWGs sliding up into second place as well.
Runner-Up: Brandon Ratzloff, Coulee Region Chill
Honorable Mention (alphabetical): Misha Akatnov, Missoula Jr. Bruins – Carson Asper, Northeast Generals – Zach Burkhart, Skylands Kings – Dylan Gulick, Oswego Stampede – Andrei Rusakov, Atlanta Capitals – Justin Schwartzmiller, Wisconsin Whalers – Grant Troumbly, Granite City Lumberjacks – Peter Verstegen, North Iowa Bulls – Jacob Wiethaupt, St. Louis Jr. Blues – Drew Wotta, Louisiana Drillers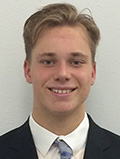 Toon De Schepper Coulee Region Chill
No team was hotter than Coulee Region during the month of January, with 14 Chill skaters featuring in the top-25 NA3HL scorers last month. De Schepper led all blueliners in that span, posting an 11-game total of 3-25—28 with eight multi-point efforts. De Schepper logged back-to-back three-point outings to kick off the month, before recording his first six-point night of the season to cap off that weekend. The Belgian blueliner closed out his month in style as well, bagging two or more points in each contest during a five-game point streak leading into February. De Schepper has now potted 6-54—60 on the year, good for third in the NA3HL.
Runner-Up: Dinmukhamed Dzhangarashev, Binghamton Jr. Senators
Honorable Mention (alphabetical): Vito Carlo, Atlanta Capitals – Trevor Christopher, Skylands Kings – Mitch Dolese, Louisiana Drillers – Jake Faulkner, St. Louis Jr. Blues – Connor Frye, Missoula Jr. Bruins – Rich Hart, Oswego Stampede – Evan Junker, North Iowa Bulls – Jordan Olson, Granite City Lumberjacks – Jack Royer, Wisconsin Whalers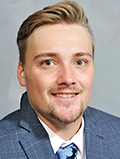 Kyle Hayden Alexandria Blizzard
The Blizzard skyrocketed into playoff position in the West Division thanks to an 8-1 record in the month of January, riding an incredible run of five wins in five starts from Kyle Hayden. Four of those five wins came against opponents ranked higher than Alexandria at the time – including a key overtime win over top-ranked Granite City. In total, Hayden logged 130 saves on 135 shots, allowed no more than two goals in any game and posted two shutouts last month. He finished January with a .963 save percentage and 0.99 GAA, both of which rank third among goaltenders with three or more starts in that frame.
Runner-Up: Jeff Zero, Binghamton Jr. Senators­­­­­­
Honorable Mention (alphabetical): Samuli Aarinen, Louisiana Drillers – Mikael Foucher, St. Louis Jr. Blues – Kavan Johnson, Skylands Kings – David Mulligan, Granite City Lumberjacks – Caleb Sauer, Wisconsin Whalers – Dysen Skinner, North Iowa Bulls – Gunner Snyder, Coulee Region Chill – Ben White, Oswego Stampede – Evan Williams, Missoula Jr. Bruins – Quinn Yeager, Atlanta Capitals
Around the NA3HL
Tweets from @NA3HL/na3hl-teams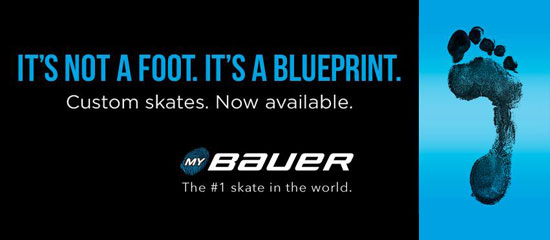 | Central Division | GP | W | L | OTL | SOL | Pts |
| --- | --- | --- | --- | --- | --- | --- |
| x - Coulee Region Chill | 41 | 31 | 8 | 1 | 1 | 64 |
| x - St. Louis Jr. Blues | 42 | 30 | 9 | 1 | 2 | 63 |
| Milwaukee Power | 42 | 26 | 13 | 2 | 1 | 55 |
| Peoria Mustangs | 42 | 25 | 15 | 2 | 0 | 52 |
| Wisconsin Whalers | 40 | 22 | 18 | 0 | 0 | 44 |
| Wausau RiverWolves | 40 | 9 | 30 | 1 | 0 | 19 |
| Evansville Jr. Thunderbolts | 40 | 0 | 40 | 0 | 0 | 0 |
| Coastal Division | GP | W | L | OTL | SOL | Pts |
| y - L/A Nordiques | 44 | 40 | 4 | 0 | 0 | 80 |
| x - Northeast Generals | 43 | 31 | 10 | 1 | 1 | 64 |
| x - New England Stars | 43 | 28 | 11 | 4 | 0 | 60 |
| Long Beach Sharks | 40 | 12 | 26 | 2 | 0 | 26 |
| Maine Wild | 43 | 10 | 27 | 4 | 2 | 26 |
| Cape Cod Islanders | 41 | 6 | 34 | 1 | 0 | 13 |
| Frontier Division | GP | W | L | OTL | SOL | Pts |
| x - Great Falls Americans | 44 | 36 | 7 | 0 | 1 | 73 |
| x - Helena Bighorns | 42 | 33 | 7 | 2 | 0 | 68 |
| Bozeman Icedogs | 41 | 25 | 12 | 4 | 0 | 54 |
| Missoula Junior Bruins | 42 | 24 | 18 | 0 | 0 | 48 |
| Gillette Wild | 41 | 20 | 18 | 2 | 1 | 43 |
| Butte Cobras | 42 | 5 | 34 | 2 | 1 | 13 |
| Yellowstone Quake | 41 | 3 | 36 | 2 | 0 | 8 |
| Northeast Division | GP | W | L | OTL | SOL | Pts |
| y - Binghamton Junior Senators | 42 | 36 | 6 | 0 | 0 | 72 |
| x - Oswego Stampede | 42 | 20 | 19 | 2 | 1 | 43 |
| x - Skylands Kings | 40 | 16 | 22 | 1 | 1 | 34 |
| x - Niagara Falls PowerHawks | 40 | 2 | 36 | 2 | 0 | 6 |
| South Division | GP | W | L | OTL | SOL | Pts |
| x - Texas Brahmas | 38 | 33 | 3 | 1 | 1 | 68 |
| x - Louisiana Drillers | 43 | 30 | 11 | 2 | 0 | 62 |
| x - Atlanta Capitals | 42 | 22 | 16 | 4 | 0 | 48 |
| x - Mid Cities Jr. Stars | 42 | 19 | 21 | 1 | 1 | 40 |
| College Station Spirit | 42 | 2 | 39 | 1 | 0 | 5 |
| West Division | GP | W | L | OTL | SOL | Pts |
| x - Granite City Lumberjacks | 41 | 33 | 6 | 2 | 0 | 68 |
| x - North Iowa Bulls | 41 | 29 | 10 | 2 | 0 | 60 |
| Rochester Grizzlies | 41 | 26 | 14 | 1 | 0 | 53 |
| New Ulm Steel | 42 | 23 | 16 | 0 | 3 | 49 |
| Alexandria Blizzard | 41 | 23 | 17 | 0 | 1 | 47 |
| Breezy Point North Stars | 43 | 12 | 26 | 3 | 2 | 29 |
| Willmar WarHawks | 42 | 9 | 31 | 2 | 0 | 20 |
February 18, 2019
Central Division
5
Coastal Division
3
Northeast Division
1
Frontier Division
2 OT
West Division
6
South Division
2
Coastal Division
3
Frontier Division
2 SO
Central Division
5
West Division
2
South Division
1
Northeast Division
4
Scores
Watch
February 19, 2019
Central Division
6
Frontier Division
4
West Division
4
Northeast Division
0
South Division
2
Coastal Division
1 OT
Scores
Watch
February 21, 2019
Wausau at Wisconsin
8:00 PM
Scores
Watch