| | | |
| --- | --- | --- |
| | Joey Gallo | Kent State |
| | Dylan Borseth | Williston State College |
| | Chandler Bilodeau | University of Alabama |
| | Peter Verstegen | University of Wisconsin - Stout |
| | Chris Barone | Assumption |
| | Brendan Studioso | Arizona State University |
| | Donovan Tehan | Becker |
| | Greg Simmons | University of Alabama |
| | Jimmy McDermott | St. Mary's University |
| | Tyler Rudek | Franklin Pierce |
View all of the NA3HL College Commitments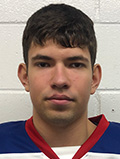 Valeri Rykov
L/A Nordiques
Rykov continued to be a key pickup for the Nordiques in February after logging points in every January contest, posting a total of 14-10—24 in just seven outings. The Russian forward lit the lamp multiple times in four of those seven games, and recorded at least one goal in six. His starring moment of the month came on the 15th as he bagged a stunning six goals and three assists in a win over Cape Cod to mark the seventh time in 11 games that he netted four or more points, and second that he posted six or more. Rykov then finished February in style, posting three consecutive three-point efforts, including a game-winning goal, to enter March on a hot streak. In total, Rykov boasts an even 25-25—50 in 14 outings since first taking the ice as a Nordique on January 4.
Runner-Up: Justin Schwartzmiller, Wisconsin Whalers
Honorable Mention (alphabetical): Trevor Borlace, College Station Spirit – Ivan Galaguzov, St. Louis Jr. Blues – Jack Olson, Great Falls Americans – Stuart Pearson, Texas Brahmas – Andrei Rusakov, Atlanta Capitals – Hunter Schwehr, Granite City Lumberjacks – Zakary Sparks, Skylands Kings – Gage Thompson, Gillette Wild – Vadim Zubkov, Missoula Jr. Bruins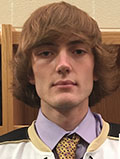 Dylan Dinzik Skylands Kings
After closing out January with four points in four games, Dinzik continued to breakout of a low-scoring funk in a big way in February with 15 points in eight games – almost double his prior highest monthly point total from October (eight points), and in two fewer games. The New Jersey native kicked off the month with back-to-back two-point games, suffered his only pointless game in February, then rattled off a five-game February point streak that has stretched to eight in March. In that span, Dinzik logged his second and third games of the season with three or more points, and notched multiple points in three of the five outings. On his now eight-game streak, Dinzik has posted 3-12—15 to bring his season total to 14-32—46 in 44 games.
Runner-Up: Tom Nagle, Granite City Lumberjacks
Honorable Mention (alphabetical): Jake Berry, Milwaukee Power – Vito Carlo, Atlanta Capitals – Benjamin Lindberg, Texas Brahmas – Hunter Muzzillo, St. Louis Jr. Blues – Brandon Peterson, Great Falls Americans – Trevor Prince, Missoula Jr. Bruins – Jack Royer, Wisconsin Whalers – Zach VanCompernolle, Gillette Wild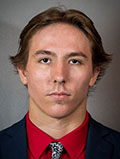 David Mulligan Granite City Lumberjacks
Mulligan started five games and won five games for the Lumberjacks in February, playing a key role in helping them separate from the pack and clinch the West Division regular season title. He opened February with a tough back-to-back set against second-ranked North Iowa and passed that test with flying colors, stopping a total of 63 of 67 shots and earning a pair of crucial wins. He then kept his hot streak rolling with wins over Rochester, New Ulm and Wisconsin en route to a perfect month. As of February 28, Mulligan had posted a .905 save percentage or better in 12 straight starts dating back to the NA3HL Showcase in mid-December.
Runner-Up: Thomas Held, Texas Brahmas
Honorable Mention (alphabetical): CJ Boothe, College Station Spirit – Shane Phillips, Gillette Wild – Caleb Sauer, Wisconsin Whalers – Drew Scites, Great Falls Americans – Josh Sears, Skylands Kings – Jack Regan, St. Louis Jr. Blues – Evan Williams, Missoula Jr. Bruins – Quinn Yeager, Atlanta Capitals
Around the NA3HL
Tweets from @NA3HL/na3hl-teams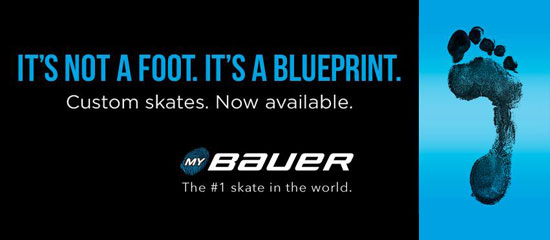 | Central Division | GP | W | L | OTL | SOL | Pts |
| --- | --- | --- | --- | --- | --- | --- |
| y - Coulee Region Chill | 47 | 36 | 9 | 1 | 1 | 74 |
| x - St. Louis Jr. Blues | 47 | 35 | 9 | 1 | 2 | 73 |
| x - Milwaukee Power | 47 | 29 | 15 | 2 | 1 | 61 |
| x - Peoria Mustangs | 47 | 26 | 18 | 2 | 1 | 55 |
| Wisconsin Whalers | 47 | 23 | 24 | 0 | 0 | 46 |
| Wausau RiverWolves | 47 | 9 | 37 | 1 | 0 | 19 |
| Evansville Jr. Thunderbolts | 47 | 0 | 47 | 0 | 0 | 0 |
| Coastal Division | GP | W | L | OTL | SOL | Pts |
| z - L/A Nordiques | 47 | 43 | 4 | 0 | 0 | 86 |
| x - Northeast Generals | 47 | 33 | 12 | 1 | 1 | 68 |
| x - New England Stars | 47 | 31 | 12 | 4 | 0 | 66 |
| x - Long Beach Sharks | 47 | 15 | 30 | 2 | 0 | 32 |
| Maine Wild | 47 | 11 | 30 | 4 | 2 | 28 |
| Cape Cod Islanders | 47 | 8 | 37 | 2 | 0 | 18 |
| Frontier Division | GP | W | L | OTL | SOL | Pts |
| y - Helena Bighorns | 47 | 38 | 7 | 2 | 0 | 78 |
| x - Great Falls Americans | 47 | 38 | 8 | 0 | 1 | 77 |
| x - Bozeman Icedogs | 47 | 28 | 15 | 4 | 0 | 60 |
| x - Missoula Junior Bruins | 47 | 27 | 19 | 1 | 0 | 55 |
| Gillette Wild | 47 | 23 | 21 | 2 | 1 | 49 |
| Butte Cobras | 47 | 5 | 39 | 2 | 1 | 13 |
| Yellowstone Quake | 47 | 5 | 40 | 2 | 0 | 12 |
| Northeast Division | GP | W | L | OTL | SOL | Pts |
| y - Binghamton Junior Senators | 47 | 41 | 6 | 0 | 0 | 82 |
| x - Oswego Stampede | 47 | 23 | 21 | 2 | 1 | 49 |
| x - Skylands Kings | 47 | 20 | 25 | 1 | 1 | 42 |
| x - Niagara Falls PowerHawks | 47 | 2 | 43 | 2 | 0 | 6 |
| South Division | GP | W | L | OTL | SOL | Pts |
| y - Texas Brahmas | 47 | 38 | 4 | 2 | 3 | 81 |
| x - Louisiana Drillers | 47 | 33 | 12 | 2 | 0 | 68 |
| x - Atlanta Capitals | 47 | 26 | 17 | 4 | 0 | 56 |
| x - Mid Cities Jr. Stars | 47 | 21 | 24 | 1 | 1 | 44 |
| College Station Spirit | 47 | 2 | 44 | 1 | 0 | 5 |
| West Division | GP | W | L | OTL | SOL | Pts |
| y - Granite City Lumberjacks | 47 | 37 | 8 | 2 | 0 | 76 |
| x - North Iowa Bulls | 47 | 32 | 12 | 3 | 0 | 67 |
| x - Rochester Grizzlies | 47 | 31 | 15 | 1 | 0 | 63 |
| x - Alexandria Blizzard | 47 | 29 | 17 | 0 | 1 | 59 |
| New Ulm Steel | 47 | 25 | 18 | 1 | 3 | 54 |
| Breezy Point North Stars | 47 | 14 | 28 | 3 | 2 | 33 |
| Willmar WarHawks | 47 | 12 | 33 | 2 | 0 | 26 |
March 23, 2019
Texas
5
Atlanta
0
Coulee Region
1
St. Louis
3
Great Falls
1
Helena
5
North Iowa
5
Alexandria
1
Oswego
1
Binghamton
6
Scores
Watch
March 27, 2019
Helena at L/A
4:00 PM
Texas at Binghamton
7:00 PM
Scores
Watch
March 28, 2019
North Iowa at L/A
4:00 PM
St. Louis at Binghamton
7:00 PM
Scores
Watch