NA3HL Fraser Cup Championship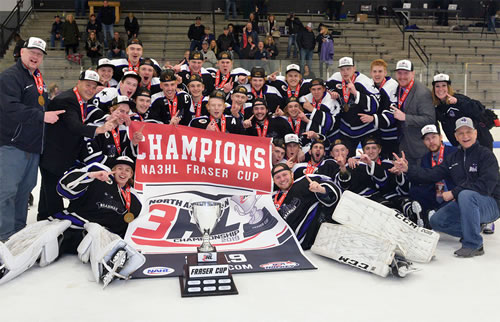 Formerly the Silver Cup, the Fraser Cup is named after Robert 'Fraser' Ritchie, a long-time staff member of the NAHL, NA3HL and NAPHL. On June 10, 2017, Ritchie passed away peacefully with family at his side after a long and courageous battle with cancer. Although Ritchie ultimately lost his battle with the disease, his influence and daily interactions with all of the owners, coaches, staff, volunteers and administrators in the NAHL, NA3HL and NAPHL, will never be forgotten.
The North American 3 Hockey League (NA3HL), one of two USA Hockey-sanctioned Tier III Junior leagues, serves as one of the top training grounds in the country by providing the best coaching, exposure and developmental vehicles available for student-athletes in its classification.
Past Champions
| Year | Team |
| --- | --- |
| 2019 | Texas Brahmas |
| 2018 | Metro Jets |
| 2017 | Granite City Lumberjacks |
| 2016 | North Iowa Bulls |
| 2015 | Granite City Lumberjacks |
| 2014 | North Iowa Bulls |
| 2013 | North Iowa Bulls |
| 2012 | Granite City Lumberjacks |
| 2011 | Chicago Hitmen |
| Year | Team |
| --- | --- |
| 2010 | St. Louis Jr. Blues |
| 2009 | Dubuque Thunderbirds |
| 2008 | Dubuque Thunderbirds |
| 2007 | Dubuque Thunderbirds |
| 2006 | St. Louis Jr. Blues |
| 2005 | St. Louis Jr. Blues |
| 2004 | St. Louis Jr. Blues |
| 2003 | St. Louis Jr. Blues |
| 2002 | Metro Jets |
| 2001 | Metro Jets |
| 2000 | St. Louis Jr. Blues |
| Year | Team |
| --- | --- |
| 1999 | Toledo Cherokee |
| 1998 | Motor City Chiefs |
| 1997 | Toledo Cherokee |
| 1996 | Motor City Chiefs |
| 1995 | Toledo Cherokee |
| 1994 | St. Louis Jr. Blues |
| 1993 | Wayne Chiefs |
| 1992 | Downriver Blades |
| 1991 | Wayne Chiefs |
| 1990 | Metro Jets |
| 1989 | Lytes Rustlers |
| 1988 | St. Louis Jr. Blues |