Jets goalie Kalinowski learns from stint in the NAHL
December 11, 2013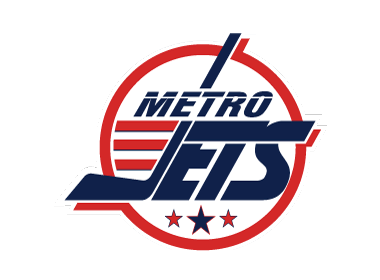 By Matt Mackinder
Trevor Kalinowski admits he isn't having the greatest year with the Metro Jets in terms of personal statistics, but even so, the higher levels have come calling.
Last week, the Port Huron Fighting Falcons of the North American Hockey League saw one of their goalies, Alex Blankenburg, get injured and the team was looking for a backup to Max Milosek in Friday night's game against the Michigan Warriors, a game Port Huron lost 5-4 in a shootout.
The Fighting Falcons called on Kalinowski, who practiced with Port Huron last Thursday.
"(Port Huron) Coach (Michael) Gershon got into contact with (Jets' coach Justin Quenneville) and before I knew it, I was on my way up to practice with the Fighting Falcons," explained Kalinowski, an 18-year-old from Commerce Township. "It was definitely a first-class organization and everyone in the front office and rink staff were very helpful. The practice was a high-performance preparation for Friday's game. The game Friday night was amazing, although we couldn't pull off the win. My teammates were very serious come game time and in the locker room, we all were on the same page. We had a job to do Friday and that was winning whatever the cost."
Ironically enough, the Warriors' backup was former Jets' goaltender Dillon Kelley (2011-12).
Quenneville said he's hoping Kalinowski can use his time with the Fighting Falcons to help his game progress even more at the NA3HL level.
"It was a good opportunity for him to not only see what it takes to play at the next level, but to see pucks in a different environment," said Quenneville. "We have a great relationship with Port Huron, as well as with a lot of other teams in the North American Hockey League and it was a great stepping stone for (Kalinowski) to get a little exposure and build on his learning curve. Hopefully, he takes this experience as a positive and builds additional confidence to take his game to the next level."
So far this year with the Jets, Kalinowski is 4-5-0-1 with a 4.24 goals-against average and a .874 save percentage playing in a goalie trio with Kam Limburg and Davide Mantovani.
"From a personal standpoint, I've had a rough start, but I'm not letting it affect my goals," Kalinowski said. "The team has been in a bit of a slump in October and November, but with a nice win over Minnesota (at the NA3HL Showcase) and Pittsburgh this past weekend, I have much confidence in my teammates that we will get the job done Sunday against Michigan."
Kalinowski played through a goalie rotation last year with any combination of Alex Nedeljkovic, Riley Corbin, Austin Julvezan and Luke DuBois and went 6-7-0 with a 3.50 GAA and a .898 save percentage.
"This year, it's a little similar to last season, but we have more rotation giving each of us a breather after a big win or a day to review where we can improve," Kalinowski said. "We all support each other. The more wins the three of us get, the closer we are to our goal this season – the playoffs."
Reflecting on his individual success, Kalinowski credits Metro assistant coach and goalie coach Randy Wilson with his improved game over the past 15 months.
"Randy has made me into the goaltender I am today," boasted Kalinowski. "He's fine-tuned my skill set and refined my style so that I can reach my full potential. This year, I've improved a lot in all areas of my game. I got faster through training, stronger to stand my ground and fight through screens for the puck and my angle square and patience for the puck, not to mention awareness on the ice. Recently, I've been working on my rebound control to make my defensemen's job easier not having to worry about second chances."
Through all that, getting a small sniff of the NAHL drives Kalinowski now more than ever.
"The small taste I got from the two days has only made me that much hungrier to get to the next level, whether it's Port Huron or any other team in the NA," said Kalinowski. "Personally, my goal is to get another call to the NA, but my expectations for the team from here on out are to make the playoffs. We have the talent and hard work to win games and make a run for the playoffs."