Jets' Linville earns call-up by NAHL's Fighting Falcons
December 23, 2013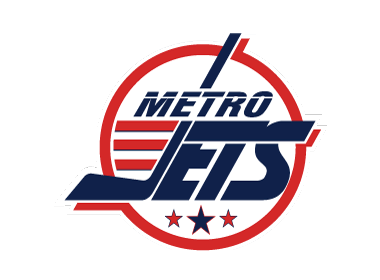 By Matt Mackinder
Kevin Shand. Trevor Kalinowski. Now, Lucas Linville.
Over the first half of the North American 3 Hockey League (NA3HL) season, the Metro Jets have moved three players to the North American Hockey League with Linville being the third as he's been called up to the Port Huron Fighting Falcons.
Earlier this year, Shand earned a recall to the Springfield Jr. Blues and Kalinowski dressed one game as a backup goaltender for Port Huron.
Linville signed with the Jets at the beginning of December after starting the season in the Central Canada Hockey League with the Brockville Braves.
In his debut game with Metro on Dec. 7, Linville tallied a hat trick, with his third goal the overtime winner at home against the Pittsburgh Vengeance.
He wound up with seven goals in five games in a Jets' uniform.
"I talked to Coach Q (Justin Quenneville) and he told me to play my game and the NA teams will watch," said Linville, a 19-year-old native of Whitmore Lake, Mich. "Port Huron was the team to contact Coach. My time with the Jets was very fun. The guys are all real nice, as well as the coaches, and they really try to get the players moved on to the next level.
"Coach Q helped prepare me (for the NAHL) with little tips and putting me out in key situations. He showed me ways to use my body better to get to the net."
"I think after we lost Kevin (Shand), we lost a little bit of finish," added Quenneville. "We've got a hard-working team that can open up the ice for guys like Lucas."
Quenneville also said after the Pittsburgh OT win that of Linville kept up the effort, he wouldn't be with the Jets much longer.
Coming to the Jets happened on a whim for Linville and it never hurts when that whim includes a Jets' connection.
"I knew (Metro assistant coach) Randy Wilson because my friend is a goalie and Randy had me come shoot on him," explained Linville, who played for the Belle Tire Midget Major AAA team in 2012-13. "So the first thing I did when I got home was talk to Randy about what I should do to try to further my playing. I wanted to play in the CCHL, but after I went there and didn't like it, I made getting to the NA my next focus."
Port Huron doesn't play again until Dec. 31 and Jan. 1, ironically enough on the road in Springfield, but Linville plans on making his mark once he gets his start with the Fighting Falcons.
"I plan on just playing my game and not being afraid to make a mistake," said Linville. "If you play inside your comfort zone you don't get better, you only stay the same."