Flint keeps on winning despite players moving up
January 18, 2014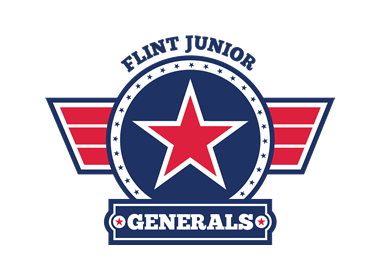 By Tom Robinson, Red Line Editorial
The Flint Junior Generals have found success in two key forms so far in this North American 3 Hockey League (NA3HL) season.
Flint has succeeded in getting players moved up to higher levels of junior hockey. At the same time, the Generals have kept winning, posting a 32-3-2 record that leads the East Division and ranks second in the entire 21-team league that plays on USA Hockey's Tier III Junior A level.
Defenseman Connor McGovern is one of the Junior Generals who have so far not been able to land a long-term spot on a higher level, but he has adjusted well to any potential disappointment by leading Flint to the top of the NA3HL East.
The former United States Hockey League draft pick has had tryouts and training camp time with multiple North American Hockey League teams. He appeared in one game for the Central Division champion Austin Bruins and four more with the Kenai River Brown Bears during the 2012-13 NAHL season.
"I think we have a good group of rookies who have stepped into the league," McGovern said of his Generals teammates. "I also think we have a core group of veterans back from last year who are a really good group of guys who could be playing at a higher level for sure, but just have happened to end up back at NA3 somehow."
McGovern and teammates in a similar situation have not gotten caught up dwelling about opportunities that did not work out.
"You just put it behind you and move on," McGovern said. "You keep playing, having fun and try to just win games."
The Generals have done that well. Flint has won all five games since the holiday break. McGovern leads a defensive unit that allowed only two goals in the first three games of that stretch. He also has an assist in each game during the current winning streak.
McGovern is plus-35 on the season, leading all NA3HL defensemen and ranking behind only three players from the North Iowa Bulls, the defending league champions and current overall leaders.
McGovern, a 20-year-old from Eagan, Minn., is also fourth in scoring among league defensemen with four goals and 24 assists in 36 games. More than half of those points have come on the power play.
"When people come to our team, their hopes are to try to move up a level," Flint coach Steve Howard said. "In Connor McGovern's case, he came back because he's comfortable. He's going to get a lot of time on the power play and the penalty kill."
McGovern spent more than half of last season with a winning Flint team.
"We didn't know if we'd get him back," Howard said. "He's been great for us. He's a smooth-skating defensemen who's contributing offensively and defensively.
"In the right situation, he would have been up there. In the couple places he's been, it was a numbers game. He wasn't in their top six."
At Flint, McGovern has excelled while handling a lot of ice time.
McGovern's performance has been part of team success, which has helped Flint draw the attention of NAHL teams. Four players who started the season with the Generals have been promoted to a total of five teams.
"That's nice for us," Howard said. "It shows we're not just working with one team. We're trying to work with the entire league."