Sunday Wrap-Up: Jets pick up key sweep
January 19, 2014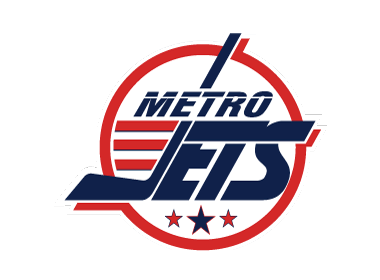 Metro Jets 4 @ Michigan Mountain Cats 1 - Metro takes the weekend series with a 4-1 win over Michigan. Metro scored four goals from three different players. Alex Holm and Kyle Downey scored one goal apiece. Zach MacKay scored two goals on the night for Metro. Michigan's lone goal came from Shawn Mott. Michigan goalkeeper had 26 saves in the loss to Metro. Boxscore.
Topeka Capitals 6 @ Sugar Land Imperials 4 - Topeka swept Sugar Land in the second two game series between the teams this week on Sunday. The game started off in the 1st period with goals coming from Sugar Land by Zachary Blohm and Matthew Winkle gaining a two goal lead. It did not take long for Topeak to come right back. A goal from Nolan Stanley late in the 1st period, Hardjis Kupaks and Nolan Stanley scoring in the 2nd period, and then two more goals from Hardijs Kupaks early in the 3rd period giving him a hat trick on the night for Topeka. Then a pair of goals from Matthew Winkle to give him a hat trick for Sugar Land and brought them within one goal of tying it up. But, it was not enough, and Topeka scored a late empty net goal to secure the win. Boxscore.
St. Louis Jr. Blues 2 @ Cleveland Lumberjacks 4 - With the 4-2 win over St. Louis, Cleveland splits the weekend series between the two teams. Cleveland players Stefan Horgas, Jared Johnson, Nick Balavich, and Mike Palasics all scored goals. The two St. Louis goals came from Alex Klaesner and Mike Lozano. St. Louis goaltender Cooper Cothran had 25 saves. Boxscore.
Chicago Bulldogs 5 @ Cincinnati Swords 7 - Another thrilling game on Sunday between Chicago and Cincinnati resulted in the same outcome as the game on Saturday, a 7-5 Cincinnati win. It was all Cincinnati in the 1st period, scoring four goals from Tanner Bennet, Andrew Bond, Matt St. Martin, and Thomas Clayton. Chicago responded with two of their own goals early in the 2nd period from Toms Taurins and Luke Morin, cutting Cincinnati's lead in half. But, Cincinnati responded with Tanner Bennet's second goal of the game. Chicago added on two more goals. One from Ryan Maksimovic and Luke Morin's second goal. In the last seconds of the 2nd period, Thomas Clayton scored his second goal of the night putting Cincinnati up 6-4 going into the 3rd period. Just as the night before, Chicago scored a mid-3rd period goal from Vince Bartkowiak to cut Cincinnati's lead down to one. But, Cincinnati holds its lead and Tanner Bennet scored on a late 3rd period empty net goal, giving him his third goal of the night giving him the hat trick. Boxscore.
Pittsburgh Vengeance 2 @ Toledo Cherokee 1 - Pittsburgh splits the two game weekend series with Toledo on Sunday afternoon with the 2-1 win. Cody Black scored in the 1st period for Toledo. Another goal didn't come until 0:09 into the 3rd period with a goal from Pittsburgh by the hands of Sami Pokka to tie it all up. Toledo secured the win with a goal from Noah Szenderki later in the 3rd period. Boxscore.
Battle Creek Revolution 1 @ Peoria Mustangs 9 - Peoria sweeps Battle Creek with a 9-1 win on Sunday afternoon. They scored nine goals from six different players. Chance Homeron and Gage Van Order both had two goals apiece. Marshall Gevers, Sam Turner, Clayton Layne, Andrew Scofield, and Nick Conner all scored one goal for Peoria. Battle Creek's lone goal came from Alex Olson. Battle Creek goaltender Zach Kooi had 50 saves in the loss to Peoria. Boxscore.
North Iowa Bulls 15 @ Breezy Point North Stars 0 - Once again, North Iowa came out firing. Scoring 15 goals from ten different players. Richie Marenis had another solid night with a hat trick and three assists, giving him six points on the night. Logan Murphy had two goals and three assists. Timothy Santopoalo and Matthew Fosdick both had two goals and two assists. Sam Naegele, Kurt Halbach, Dominik Florian, Matt Kroska, Brandon Anderson, and Conor Jonasson all scored one goal apiece for North Iowa. North Iowa goaltender Jordan Moran get his 3rd shutout of the season. Breezy Point goalies Troy Pierce and Matt Memolo had a combined 52 saves in the loss. Boxscore.