Saturday Scores: Flying Aces snap losing skid
January 26, 2014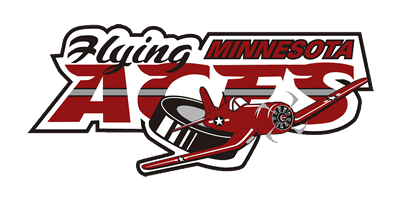 Minnesota Flying Aces 3 @ Chicago Bulldogs 2 (SO) - Minnesota and Chicago both scored two goals during regulation on Saturday night. The two Minnesota goals came from Blake Anderson and AJ Gullickson. The two Chicago goals came from Max Piper and Jarret Walt. No goals came from either teams in the overtime period sending the teams into a shootout. The first shootout goal came from Chicago's Joy Mavrin. But, then Minnesota capitalized with two back to back shootout goals from AJ Gullickson and Anthony Martinez securing the shootout win. Boxscore.
Alexandria Blizzard 4 @ Breezy Point North Stars 2 - The game was an exchange of two goals apiece from both teams until the late 3rd period. The first to Alexandria goals came from Aaron Ryback and Bo Gronseth and the first two Breezy Point goals came from Nick Johnsen and Russel Barone. Alexandria secured the win with a late 3rd period goal from Mick Dhein and the empty net goal from Bo Gronseth. Boxscore.
Dallas Jr. Stars 2 @ Topeka Capitals 6 - Topeka secured the win with six goals from six different players. Trenton Faber, Austin Petrie, Georgy Ostapchuk, Nolan Stanley, Jaydn Munnelly, and Connor Nichols all scored from Topeka. The pair of goals from Dallas were scored by Alex Maclnnis and Stephen Smith. Boxscore.
Toledo Cherokee 2 @ Michigan Mountain Cats 1 - A low scoring game came out of Michigan on Saturday evening. Xavier Sudlow scoring first for Toledo very early in the 1st period. The second goal of the night from Toledo came from Aaron Roschinsky in the mid 2nd period. Michigan's lone goal came later in the 3rd period and was not enough to bring them back even with Toledo. Boxscore.
Wisconsin Whalers 7 @ Battle Creek Revolution 0 - Wisconsin brought a shutout to Battle Creek by scoring seven goals from five different players and goaltender David Volkmann saving all 23 of Battle Creek's shots on goal, giving him his first shutout of the season. Kaleb Morley had a hat trick on the night for Wisconsin. Brett Gates, Zack Johnson, Dan Addie, and Mich Riese all had one goal apiece for Wisconsin. Battle Creek goaltender Nathan Mortland had 66 saves in the loss. Boxscore.
Cleveland Jr. Lumberjacks 2 @ Flint Junior Generals 4 - The night started off with a Cleveland goal by Stefan Horgas in the early 1st period only be countered by two Flint goals shortly after by Nicholas Gnagni and Brett Leppek. Going into the 2nd period Cleveland being down 1-2 quickly scored another goal from Avery Huibregtse, but that would be all the scoring on the night for Cleveland. Flint went on to score two more goals from Mark McGree and Brett Leppek to get the 4-2 over Cleveland. Boxscore.
Granite City Lumberjacks 5 @ North Iowa Bulls 10 - North Iowa wins in a high scoring game against Granite City. North Iowa scored ten goals from six different players. Richie Marenis, Matt Kroska, Logan Murphy, and Brander Anderson all scored two goals each for North Iowa. Dominik Floran and Conor Jonasson both scored one goal each for North Iowa. Granite City's goals came from four different players. David Kenny had two goals, Aidan Verbeke, Taylor Brown, and Morgan Martelle scored one apiece from Granite City in the loss. Boxscore.
Pittsburgh Vengeance 2 @ Metro Jets 5 - Metro gets the win over Pittsburgh Saturday night with five goals from five different players. Alex Holm, Kyle Shreve, Cody Jones, Brad Hepler, and Nathan Phillips scored from Metro. The two goals from Pittsburgh goals from Joseph Randazzo and Tom Diffendal. Pittsburgh's goaltender Jason Kumpfiller had 27 saves in the loss. Boxscore.
Peoria Mustangs 4 @ Cincinnati Swords 3 (SO) - Both teams scored three goals from three separate players in regulation. For Peoria the three goals came from Sam Turner, Joshua Hart, Austin Ziakas. The three from Cincinnati came from Nikita Korotkov, Joshua Hart, and Austin Ziakas. With the game tied Peoria and Cincinnati went into overtime. No goals were scored in the overtime period sending the game into a shootout. The three Peoria shootout goals came from Andrew Scofield, Nathan Chasteen, and Sam Turner. The two Cincinnati goals came from Hunter Schneider and Emil Sundstrom in the shootout loss to Peoria. Boxscore.