Sunday Wrap-Up: Flint captures East crown
January 26, 2014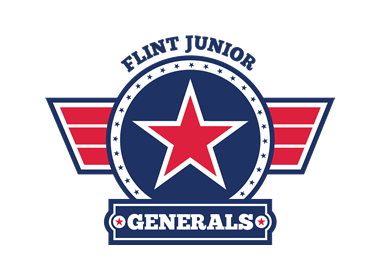 Cleveland Jr. Lumberjacks 0 @ Flint Junior Generals 7 - Flint gets the Sunday afternoon win against Cleveland scoring seven goals from six different players. Zach Koonce scored two goals of his own and Jacob Drinkard, Mark McGee, Nicholas Gnagni, Jacob Laineese, and Brett Lappek all scored one goal apiece for Flint. This is goaltender Anders Franke's second shutout of the year for Flint. Goaltenders Sam Pikus and Tyler Jansen had a combined 30 saves for Cleveland in the loss. The win secured the East Division regular season crown for the Junior Generals. Boxscore.
Peoria Mustangs 6 @ Cincinnati Swords 4 - The scoring began with a late 1st period goal from Peoria by the hands of Nathan Chasteen. Cincinnati responded in the mid 2nd period with a goal from Andrew Bond. Peoria gained momentum with a late 2nd period goal with another goal from Nathan Chasteen and then two early 3rd period goals from Andrew Scofield and Joshua Hart. Peoria looked to have the game wrapped up with their 3 goal lead in the 3rd period up but Cincinnati fought all the way back with three goals of their own in a 4 minutes in the middle of the 3rd period. Brenden Williams, Hunter Schneider, and Nicholas Riscossa scored the three goals for Cincinnati to bring the game back to even. Peoria denied Cininnati's come back with a late 3rd period goal from Sam Turner to take a one goal lead and an empty net goal from Marshall Gevers to close out the Sunday afternoon thriller. Boxscore.
Minnesota Flying Aces 4 @ Chicago Bulldogs 5 (OT) - Minnesota scored the first four goals of the game. Nick Tolin and Bradee Thompson scoring in the 1st period and Anthony Martinez and another goal from Nick Tolin coming in the late 2nd period. Chicago's first goal of the night came with less than one minute remaining in the 2nd period from Matt Kostopoulos. Chicago came right back with three more goals within the first 8 minutes of the 3rd period from Toms Taurins, Ryan Maksimovic, and Matt Kostopoulos scoring his second goal of the night. With the game tied at 4-4 both defenses held as the 3rd period closed out sending the game into overtime. Chicago secured the 5-goal comeback win with an overtime goal from Jeremy Szczurek. Boxscore.
Wisconsin Whalers 12 @ Battle Creek Revolution 1 - Wisconsin beats Battle Creek in a very lopsided game with Wisconsin having 74 shots on goal while Battle Creek had only 24. Wisconsin scored a dozen goals in total coming from nine different players. Dan Addie had a hat trick on the night along with an assist. Tim Tarvis had two goals and an assist. D.J. Mussey, Nauris Buskevics, Ryan Martin, Jon Skarlis, Max Whitney, Connor Hyde, and Kaleb Morley all scoring one goal. Battle Creek's lone goal came from Alex Olsen. Boxscore.
Granite City Lumberjacks 7 @ Breezy Point North Stars 1 - Seven goals from six different players gave Granite City the win on Sunday afternoon over Breezy Point. David Kenney had two goals while Blake Phenow, Zach Voss, Luke Richardson, Aidan Verbeke, and Nick Haase had one goal each. Breezy Point's one goal came from Chris Hjorth. Boxscore.
Dallas Jr. Stars 2 @ Topeka Capitals 3 - Topeka edged out the win against Dallas starting out in the 1st period with a pair of goals from Joe Stoneburner. Dallas responded in the 2nd period with two goals from Blake McIntyre and Collin South. Topeka scored early in the 3rd period from Connor Nichols and held the lead for the rest of the 3rd period to win the game. Boxscore.
Pittsburgh Vengeance 4 @ Metro Jets 2 - Pittsburgh edged Metro in the win with four goals from Cody Black, Thomas Leistner, and Sami Pokka scoring two. The two Metro goals came from Kyle Shreve and Cooper McLean. Metro goaltender Trevor Kalinowski had 26 saves in the loss to Pittsburgh. Boxscore.
Alexandria Blizzard @ North Iowa Bulls (Postponed) - The game has been postponed due to inclimate weather.