NA3HL announces Divisional Stars of the Week
January 28, 2014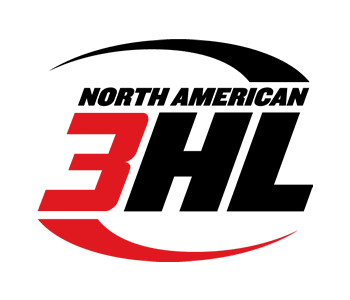 The North American 3 Hockey League (NA3HL) today announced the Divisional Stars of the Week presented by Easton for the week ending January 26, 2014. The divisional stars of the week is an award given each week of the regular season to the top performing players in each of the four divisions of the NA3HL as nominated by their head coaches.
Central Division Star of the Week: Jeremy Szczurek, defenseman, Chicago Jr. Bulldogs
Newly acquired defenseman Jeremy Szczurek, 18, has been a very nice addition for the Bulldogs and that was evident again this past weekend. The native of Algonquin, Illinois helped Chicago take five of six points in three home games and made a significant impact from the blueline. On Friday, Szczurek (6'0/175) had a goal and assisted on two others as Chicago edged Wisconsin, 5-4. After going without a point in Saturday's 3-2 shootout loss to Minnesota, Szczurek returned on Sunday by scoring the game-winning goal with just one second remaining in overtime and also adding an assist in a 5-4 win. For the week, Szczurek had five point and was a +5. "Jeremy has been a really nice fit since he has been here and can be an elite defenseman," said Chicago head coach Tom Clarke. "He is still young, but smart and solid at both ends of the ice. He has a good shot and great instincts."
2nd Star: Dan Addie, defenseman, Wisconsin Whalers
Honorable Mention (alphabetical): Josh Hart, forward, Peoria Mustangs – Luke Morin, forward, Chicago Jr. Bulldogs - Kaleb Morley, forward, Wisconsin Whalers – Alec Rounds, goaltender, Cincinnati Swords – Brenden Williams, forward, Cincinnati Swords
East Division Star of the Week: Nick Gnagni, forward, Flint Junior Generals
Thanks to two wins over the weekend against Cleveland, the Flint Junior Generals became the first NA3HL team to win their division this regular season. Forward Nick Gnagni, 20, returned with force after some brief time off to record five points in the two wins. The native of Bloomingdale, Illinois had a goal and two assists in Saturday's 4-2 win. On Sunday, Gnagni (5'8/185) chimed in with another goal and an assist in a 7-2 win. Gnagni ranks 2nd on the team in points with 42 points in 35 games played this season. "Nick is such a great leader he is huge part of this team," said Flint head coach Steve Howard. "He has a great scoring touch and is a big reason that we are having a successful season thus far."
2nd Star: Sami Pokka, forward, Pittsburgh Vengeance
Honorable Mention (alphabetical): Zach Collins, forward, Michigan Mountain Cats – Brett Leppek, forward, Flint Junior Generals – Joe Lopez, goaltender, Michigan Mountain Cats – Aaron Roschinsky, forward, Toledo Cherokee
South Division Star of the Week: Jadyn Munnelly, forward, Topeka Capitals
The Capitals moved closer to the South Division title this past weekend with a sweep of the Dallas Jr. Stars and 17-year-old forward Jadyn Munnelly helped the cause. The native of Bellevue, Nebraska recorded a goal and pair of assists in the two wins. Munnelly (5'10/160) started the weekend with a goal and assist in a 6-2 win on Saturday. On Sunday, Munnelly had an assist on the game-winning goal in the 3rd period in a 3-2 win. In 33 games this season, Munnelly has 30 points, which ranks 5th in the Capitals line-up. "Jaydn has really step up his game to another level and is one of the many reasons for our success this season," said Topeka head coach Anthony Bohn.
2nd Star: Alex MacInnis, defenseman, Dallas Jr. Stars
Honorable Mention (alphabetical): Blake McIntyre, forward, Dallas Jr. Stars
West Division Star of the Week: Richie Marenis, forward, North Iowa Bulls
Although he played in just one game, there appears to be no stopping North Iowa forward Richie Marenis. For the second straight week, the 20-year-old forward from Riga, Latvia was honored as the West star of the week. Marenis (6'1/190) had two goals and three assists for a five point night in North Iowa's 10-5 win at home over Granite City on Saturday night. Both of Marenis' goals came in the 1st period as the Bulls built a big lead. His 39 goals leads in the NA3HL and his 80 points ranks 3rd. "Richie made a huge impact in the game and is playing his best hockey of his career right now," said North Iowa head coach Todd Sanden.
2nd Star: Matt Kroska, forward, North Iowa Bulls
Honorable Mention (alphabetical): Sam Basich, forward, Twin City Steel – Jace Childs, forward, Twin City Steel – David Kenney, forward, Granite City Lumberjacks