Jets goalie Limburg gets taste of NAHL
January 29, 2014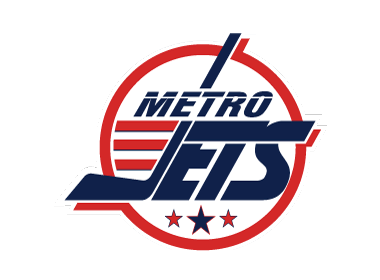 Kam Limburg was singing the blues two weekends ago, but in a good way.
After all, getting a call-up to the Springfield Jr. Blues of the North American Hockey League is a feather in Limburg's goalie helmet, but not only did the Metro Jets' rookie get the call-up, he played the last 31:46 of the Jr. Blues game Jan. 18 against the Topeka RoadRunners, a 6-1 loss for Springfield.
Never the less, the experience Limburg went through in his week of practice with the Jr. Blues and his game action is something he can build on the rest of this season in Waterford.
"I went to Springfield's main camp over the summer and did well and they have been checking in on me periodically throughout the season," said Limburg, an 18-year-old product of Howell, Mich. "A couple days before I went there, one of the goalies was reported to be injured and they needed a goalie to fill in while he was out, so they decided to give me the call."
On Jan. 18, Limburg came on in relief of stating netminder Stefanos Lekkas and stopped 15 of 19 shots.
"The players and staff were very welcoming to me when I arrived," Limburg said. "I got in the locker room and most of the guys came up to me and introduced themselves and tried to include in as much as they could. When I got the nod on Saturday night, to be honest, I was a little nervous. Springfield had a pretty big crowd that night and as I was skating to the net I received a lot chirps from the Topeka bench. That being said, once I made the first save I felt very comfortable out there. I thought I ended up playing well for my first appearance."
Immediately, Limburg noticed the big jump from the North American 3 Hockey League to the NAHL.
"I think the biggest change between the NA3 and the NA, as a goalie, was the speed," Limburg said. "The players were faster, the passes were faster and crisper and the release on the shots was quicker. The Springfield coaches said that they like what they saw from me over the week I was there and that they think I am progressing well this season."
In Waterford, Limburg has battled for playing time all season with veteran Trevor Kalinowski and fellow rookie Davide Mantovani and has posted a 5-9-0 record with a 3.56 goals-against average and a .881 save percentage.
"I think the experience I had in Springfield was great and I definitely gained some confidence from it," said Limburg. "It helped me realize that I have more time on the ice than I previously thought. Trevor and Davide have been playing well lately, so I think it will continue to be good competition between the three of us in practice and when it comes to game time."
And even as the Jets have had to shuffle their lineup lately with a number of NAHL call-ups, head coach Justin Quenneville calls that situation a good problem to have.
"I believe that there is a healthy balance to developing players, promoting them and winning hockey games," Quenneville said. "I don't buy when coaches use that as a crutch to say that they 'lost' a player. Our job as coaches is to challenge our players and develop them. When players are ready, they should be playing at a higher level because they deserve so and coaches should never hold them back, plain and simple.
"I think we're a hard-working team that plays an in-your-face style. We want to give ourselves a chance to win every night and to do that, we have to be hard to play against and make good decisions with the puck. Naturally, as a coach, I'd love to have more skill, but we have players that are getting rewarded right now for their effort on and off the ice."