NA3HL announces Divisional Stars of the Week
February 4, 2014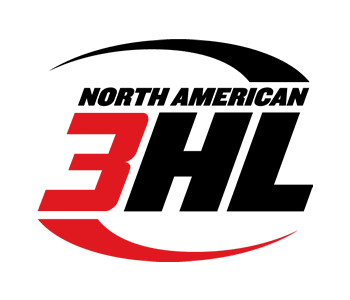 The North American 3 Hockey League (NA3HL) today announced the Divisional Stars of the Week presented by Easton for the week ending February 2, 2014. The divisional stars of the week is an award given each week of the regular season to the top performing players in each of the four divisions of the NA3HL as nominated by their head coaches.
Central Division Star of the Week: Jason Hoehn, forward, Wisconsin Whalers
Just two points separate 5th place and 2nd place in the Central Division, and the Wisconsin Whalers helped their cause this past weekend by taking three of four points in a road series in Chicago. On Friday, the native of Port Byron, Illinois picked up an assist in Friday night's 5-2 win over the Jr. Bulldogs. On Saturday, Hoehn (6'0/205) picked up two goals in a 5-4 shootout loss. He was also a +2 during the weekend. For the season, the 18-year-old has 37 points in 37 games and is 4th in team scoring. "Jason is playing really well. He is very deserving of a spot in the NA3HL Top Prospects Tournament," said Wisconsin head coach Tom McDermott. "He is improving every day and really at the top of his game right now. He is a guy we are relying on to play his best in high-pressure situations."
2nd Star: Marc Hayton, goaltender, Peoria Mustangs
Honorable Mention (alphabetical): Andrew Bond, forward, Cincinnati Swords – Connor Fissel, goaltender, Wisconsin Whalers – Josh Hart, forward, Peoria Mustangs – Alex Klaesner, forward, St. Louis Jr. Blues – Andrew McGlynn, forward, St. Louis Jr. Blues – Hunter Schneider, forward, Cincinnati Swords
East Division Star of the Week: Kade Morrison, forward, Michigan Mountain Cats
18-year-old Michigan forward Kade Morrison had his most productive week to date as he helped the Mountain Cats pick up two wins in three games last week. The native of Attica, Michigan recorded 12 points in the three games, which included five goals and seven assists. Morrison (5'11/188) was also a +8 in the three games. On Thursday night, Morrison had a seven-point game, which included four goals in a 10-3 win over Battle Creek. On Saturday, Morrison picked up an assist in a 2-1 loss at Metro against the Jets. On Sunday, Morrison had a goal and three assists in a 9-5 home win over the Metro Jets. For the season, Morrison leads the Mountain Cats in scoring with 29 points in 37 games played. "Kade has really picked up his game the past month or so. He is a good leader in the lockerroom and on the ice. He not only is our leading scorer, but one of our most improved players as well," said Michigan head coach Chad Grills.
2nd Star: Anders Franke, goaltender, Flint Junior Generals
Honorable Mention (alphabetical): Zach Collins, forward, Michigan Mountain Cats – Justin Fisher, forward, Flint Junior Generals
South Division Star of the Week: Chris Mallon, goaltender, Dallas Jr. Stars
Dallas Jr. Stars goaltender Chris Mallon, 19, helped the Jr. Stars snap their five-game losing streak this past weekend with a couple of good performances. On Friday night, the native of Burnsville, Minnesota came in just over halfway through the game and stopped 23 of 24 shots in a 4-2 loss. The next night, Mallon (6'3/210) got the start and made 33 saves in a 4-2 win over division-leading Topeka. For the season, Mallon has appeared in 19 games and posted an 8-8-1 record with a 3.70 goals against average and a 89.3% save percentage. "Chris had a good weekend. He came in relief on Friday night and played well, and had a good game Saturday to help us win," said Dallas head coach Jason Deitsch. "He is a good goalie and we are going to lean on him down the stretch run."
2nd Star: Tommy Stock, forward, Dallas Jr. Stars
Honorable Mention (alphabetical): None
West Division Star of the Week: Sam Naegele, defenseman, North Iowa Bulls
The North Iowa Bulls picked up three more convincing wins last week and appear headed for another West Division title. 19-year-old defenseman Sam Naegele played a big part in the three wins as the Coon Rapids, Minnesota native chimed in with four assists in wins over Minnesota and Alexandria. Naegele (6'0/175) picked up an assist in a 7-3 win over Alexandria on Thursday. He then picked up three assists in a 10-0 win over the Minnesota Flying Aces on Saturday. Not only did Naegle chime in with points, he was also a +7 in the three games, which included a plus rating in each of the three wins. In 26 games with the Bulls this season, Naegele has recorded 14 points from the blueline. "Sam is a guy that has been consistent all season long," said North Iowa head coach Todd Sanden. "He has been very productive in the games and taken advantage of the opportunity given to him. He works really hard to try and get in the line-up on a nightly basis and it is nice to see him play well."
2nd Star: Jace Childs, forward, Twin City Steel
Honorable Mention (alphabetical): Matt Fosdick, defenseman, North Iowa Bulls – Isaac Hale, defenseman, Twin City Steel – David Kenney, forward, Granite City Lumberjacks – Aidan Verbeke, forward, Granite City Lumberjacks