Saturday Scores: Jets get big win over Cleveland
February 9, 2014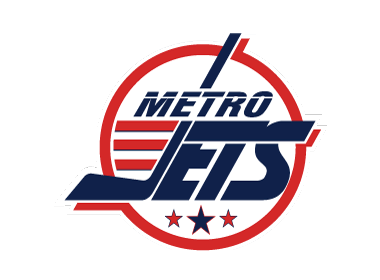 Alexandria Blizzard 5 @ Breezy Point North Stars 3 - Alexandria beat Breezy Point by a 5-3 margin. The five Alexandria goals came from Jody Randall, Bo Gronseth, and a hat trick from Joe Anderson. The trio of goals from Breezy Point came from Crosby Steen, Blake Neumann, and Chris Hjorth. Boxscore.
North Iowa Bulls 10 @ St. Louis Jr. Blues 3 - North Iowa wins big once again with 10 goals coming from ten different players. Ron Lindgren, Chris Howard, Richie Marenis, Kyle Krueger, Matt Kroska, Matt Fosdick, Cameron Brown, Brandon Anderson, Conor Jonasson, and Tim Santopoalo all scored for North Iowa. The three St. Louis goals came from Cobb Maxwell, Andrew Kovacich, and Adam Roeder. Boxscore.
Cincinnati Swords 5 @ Chicago Jr. Bulldogs 1 - Cincinnati wins by a score of 5-1 against Chicago. Andrew Bond scored two goals for Cincinnati, and Brenden Williams, Joe Keenan, and Luke McCammant all scored one goal each. The lone Chicago goal came from Ryan Maksimovic. Boxscore.
Metro Jets 4 @ Cleveland Jr. Lumberjacks 3 (SO) - Both teams were tied up at 2-2 going into the late 3rd period. Matt Wipper and Tyler Dalton scoring for Cleveland, and Zach Kopinski scoring two goals for Metro. Metro scored again later in the 3rd period by the hands of Kyle Shreve. With two minutes left to go in regulation Matt Whipper scored again for Cleveland tieing the game up and sending the game into overtime. Neither team scored in the overtime period sending it into a shootout where Metro won with the game winning goal coming from TJ Krajewski. Boxscore.
Minnesota Flying Aces 2 @ Granite City Lumberjacks 10 - Granite City scored ten goals from six different players. Drew Otto scored four goals, Sam Zweiner scored two, Taylor Brown, Gavin Porter, Roy Grandov, and Luke Richardson scored one goal each for Granite City. The pair of goals from Minnesota came from Anthony Martinez and Jack Anderholm. Boxscore.
Pittsburgh Vengeance 2 @ Toledo Cherokee 3 (SO) - Pittsburgh and Toledo traded off a pair of goals in regulation. Sami Pokka and Cody Black scoring for Pittsburgh. Brody Duncan and Dominic Pisanti scored for Toledo. The game went into an overtime period where nobody scored sending into a shootout where Toledo goaltender Nate Gay did not allow one shootout goal getting the win. Boxscore.
Wisconsin Whalers 4 @ Peoria Mustangs 3 (SO) - Wisconsin edges out Peoria going all the way to a shootout. Both teams scored three goals apiece in regulation. Sam Turner scored two and Andrew Scofield scored one goal for Peoria. Adam Alcott, Ryan Martin, and Zack Johnson all scored for Wisconsin. Wisconsin held on to win in overtime to complete the comeback win. Boxscore.
Battle Creek Revolution 1 @ Michigan Mountain Cats 4 – It was the Kade Morrison show as the forward scored three of the Mountain Cats four goals as Michigan defeated Battle Creek, 4-1. Morrison scored an even strength goal in the 1st period and a power play and shorthanded goal in the 2nd period. Max Vance added the other goal for Michigan. Ian Rolfsen had the lone goal for Battle Creek. Boxscore
Sugar Land Imperials 2 @ Dallas Jr. Stars 7 – Blake McIntyre had two goals to lead the Dallas Jr. Stars to a 7-2 win over Sugar Land. Matthew Swan put the Imperials on the board first, but then Dallas scored four straight on goals from Raurie Petrich, McIntyre, Matt Zaragoza and Stephen Smith. Matthew Winkle scored for Sugar Land to make it 4-2, but three straight Dallas goals from Jake Gevaart, Cam Choate and McIntyre secured the final score. Boxscore