NA3HL announces Divisional Stars of the Week
February 11, 2014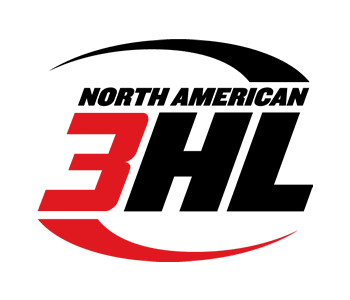 The North American 3 Hockey League (NA3HL) today announced the Divisional Stars of the Week presented by Easton for the week ending February 9, 2014. The divisional stars of the week is an award given each week of the regular season to the top performing players in each of the four divisions of the NA3HL as nominated by their head coaches.
Central Division Star of the Week: Ryan Martin, forward, Wisconsin Whalers
In the ever-changing landscape that is the Central Division playoff race, the Wisconsin Whalers did themselves a world of good this past weekend as they picked up a road sweep of 1st place Peoria. The wins moved them into a tie for 3rd place and into playoff position. Leading scorer Ryan Martin, 19, had four points in the two-game sweep, which included three goals and an assist. On Saturday, Martin (5'10/170) scored the game-tying goal late in the 2nd period and assisted on the game-winning goal in the 3rd period in a 4-3 win. On Sunday, the native of Rochester, Minnesota scored Wisconsin's first and last goals in a 4-2 win. Martin's 62 points to date leads the Whalers in scoring and his 31 goals ranks 6th in the NA3HL. "Ryan has been consistent all season long and it seems like the bigger the game, the more he steps up and plays big. He really came through this weekend when we needed some important wins," said Wisconsin head coach Tom McDermott.
2nd Star: Alec Rounds, G, Cincinnati Swords
Honorable Mention (alphabetical): Connor Fissel, G, Wisconsin Whalers – Mike Lozano, F, St. Louis Jr. Blues – Hunter Schneider, F, Cincinnati Swords
East Division Star of the Week: Matt Wipper, forward, Cleveland Jr. Lumberjacks
The Cleveland Jr. Lumberjacks picked up five of six points in three games this weekend against some East Division foes as they moved closer to clinching a playoff spot. Forward Matt Wipper, 20, had his best weekend in a Lumberjacks uniform since joining the team in December. The native of South Euclid, Ohio had six points in the three games and scored the game-winning goals in both of Cleveland's wins. On Friday, Wipper (5'10/180) had the game-winning goal in a 5-3 home win over Toledo. On Saturday, Wipper factored in on all three of Cleveland's goals as he scored once and added two assists in a 4-3 shootout loss to the Metro Jets. On Sunday, Wipper had two more goals, including the game-winner in a 4-2 home win over the Jets. In 13 games played this season, Wipper has 13 points. "Matt has added to the offensive depth to our club and we will rely on his production as season moves along and into the playoffs. He has been a very positive addition," said Lumberjacks head coach Bob Jacobson.
2nd Star: Kade Morrison, F, Michigan Mountain Cats
Honorable Mention (alphabetical): Walker Bass, G, Michigan Mountain Cats – Cody Black, F, Pittsburgh Vengeance – Jason Kumpfmiller, G, Pittsburgh Vengeance – Joe Moza, G, Cleveland Jr. Lumberjacks
South Division Star of the Week: Blake McIntyre, forward, Dallas Jr. Stars
It looks like NAPHL graduate and Dallas forward Blake McIntyre didn't need much time to get acclimated with his new surroundings. The 18-year-old from Southlake, Texas helped the Jr. Stars pick up a weekend sweep of the Sugar Land Imperials by scoring four goals in the two-game series. On Friday, McIntyre (5'11/175) had two goals, including the game-winner in a 5-3 win. On Saturday, McIntyre scored two more goals in a 7-2 win. He was also a remarkable +6 in the two wins. After playing the majority of the season in the NAPHL with the St. Louis Selects 18U team, McIntyre joined the Jr. Stars in later January and as scored 10 points in seven games with Dallas. "Blake had a really good weekend and took advantage of his chances. He has been a great addition and he has stepped into the line-up right away and has made an impact," said Dallas head coach Jason Deitsch.
2nd Star: Cameron Choate, D, Dallas Jr. Stars
Honorable Mention (alphabetical): None
West Division Star of the Week: Drew Otto, forward, Granite City Lumberjacks
Although it was just one game, Granite City veteran forward Drew Otto, 20, made it one to remember this past Saturday night. The 5'11/180 lbs. forward from Menomonie, Wisconsin, tied a career-high by scoring five points, including four goals, in a 10-2 home win over the Minnesota Flying Aces. Otto scored the 1st, 4th, 6th and 7th goals of the game. He also assisted on a power play goal in the 3rd period. For the 2013-14 season, Otto ranks 2nd on the Lumberjacks in scoring with 61 points in 35 games played. His 39 assists rank 7th in the NA3HL. "Drew had a great game and it was one of his best outings of the season. When he plays well and steps up in a leadership role, we are a better team for it," said Granite City head coach Brad Willner.
2nd Star: Chancie Hanson, D, North Iowa Bulls
Honorable Mention (alphabetical): Jordan Moran, G, North Iowa Bulls – Sam Zweiner, D, Granite City Lumberjacks