Mustangs have eyes on top prize
February 19, 2014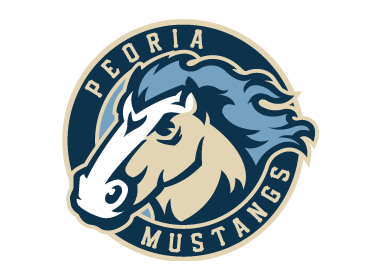 By USA Junior Hockey Magazine
The Peoria Mustangs have to be considered as a top contender for the NA3HL championship, being one of just four teams in the league to win at least 30 games.
"We are not surprised that we are in the playoff hunt," said assistant general manager Dustin Fitzpatrick. "Our goal every year is to be .500 at Christmas and make a late push when it counts down the stretch."
Peoria's offense has certainly helped the Mustangs throughout the season. Their 213 goals was second only to the 287 scored by the defending Tier-3 Junior National Champion North Iowa Bulls. However, Fitzpatrick said the team's two-way play was the reason they should be counted as a title contender.
"Our team is becoming more two-way focused. At the beginning, we were all about the offense," said Fitzpatrick. "We were happy to win games 6-5. However, now we are blocking shots and focused on the defensive zone."
Keeping shot totals down will be key to playoff success. Peoria is averaging about 34 shots against per game, and Fitzpatrick and head coach Steve Ortman would like to see that come down by about 10 per game.
"We need to continue to focus on the defensive zone and keep teams to 25 shots or less," said Ortman. "This allows for faster transition play, which is where we excel offensively."
The Mustangs are on a 14-game winning streak and clinched the first playoff berth in the Central Division. They are hoping to hold off the Wisconsin Whalers, St. Louis Jr. Blues and Cincinnati Swords and take the division championship.
Individually, the Mustangs feature three of the top 20 scorers in the league, headlined by Nathan Chasteen. The '94 from right there in Peoria, Ill., has 73 points in 40 games. He has played for Peoria in the NA3HL and for two teams in the parent North American Hockey League since 2010-11.
He is expected to move on to a college hockey team next year, along with '93 Sam Turner, out of Baldwin, Mo. Turner, who played the last two years for the Jr. Blues, has 59 points in 42 games.
Another expected college commit is '94 Blake Ortman, a fourth-year Mustang from Dunlap, Ill., who has 26 points in 38 games.
A good number of other Mustangs are expected to move up to the NAHL for 2013-14. Forward Brennan Anderson has scored 44 points in 38 games this year, and has already tendered to the Lone Star Brahmas for next year. Also expected to make the jump to the Tier-2 NAHL are '95 forward Andrew Scofield (50 points in 29 games), '94 defenseman Austin Ziakas (32 points in 41 games) and '95 defenseman Brendan Murphy (25 points in 38 games).
With all the talent that the Mustangs have, there are no gimmees around any corner. The NA3HL playoffs are expected to be a knock-down, drag-out affair. "The competition throughout the NA3HL is pretty even," said Fitzpatrick. "The talent level also continues to improve."