NA3HL announces Divisional Stars of the Week
February 25, 2014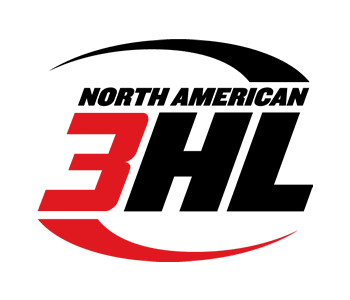 The North American 3 Hockey League (NA3HL) today announced the Divisional Stars of the Week presented by Easton for the week ending February 23, 2014. The divisional stars of the week is an award given each week of the regular season to the top performing players in each of the four divisions of the NA3HL as nominated by their head coaches.
Central Division Star of the Week: Nikita Korotkov, forward, Cincinnati Swords
With just two games to go in the regular season, the Cincinnati Swords helped their playoff chances this past weekend with a weekend home sweep of Battle Creek. Leading scorer Nikita Korotkov, 21, had seven points in the two wins to earn weekly honors. The native of Moscow, Russia, totaled four goals and three assists in the weekend wins. Korotkov (5'8/160) started his weekend with a two goal, two assist performance in a 5-0 shutout of the Revolution on Saturday and then followed that up with two goals and an assist in a 6-2 win on Sunday. For the season, Korotkov leads the Swords in scoring with 51 points in 44 games played."When Nikita plays well, we usually play well as a team. He is putting in the work in order to make himself and his teammates better. He plays better as the situations get more important," said Swords head coach Lee Lansdowne.
2nd Star: Mike Lozano, F, St. Louis Jr. Blues
Honorable Mention (alphabetical): Billy Hindle, G, St. Louis Jr. Blues – Aaron Storch, F, Cincinnati Swords
East Division Star of the Week: Anders Franke, goaltender, Flint Junior Generals
In a battle of division-leaders this past weekend, the Flint Junior Generals showed they were for real as they swept Central Division-leading Peoria on the road. Leading the way was veteran goaltender Anders Franke, 20, who gave up just a single goal in the two wins. On Saturday, Franke (5'7/160) allowed just a single breakaway goal and made 29 saves in a 3-1 win. On Sunday, the native of Zimmerman, Minnesota was even better has he stopped all 27 shots that came his way in a 3-0 shutout. Franke ranks 2nd in the NA3HL in both save percentage (92.6%) and goals against average (1.78) and is 1st in wins with 27. "We played a great quality opponent in Peoria and it was good to get out of the division. It was a playoff atmosphere and Anders gave a playoff-like performance. He was solid all weekend and hopefully it is something he can build on as we prepare for the playoffs," said Flint head coach Steve Howard.
2nd Star: Jason Kumpfmiller, G, Pittsburgh Vengeance
Honorable Mention (alphabetical): Zach Collins, F, Michigan Mountain Cats – Conor Durgan, F, Flint Junior Generals – Kamerson Limburg, G, Metro Jets – Xavier Sudlow, F, Toledo Cherokee – Max Vance, F, Michigan Mountain Cats
South Division Star of the Week: Cam Choate, defenseman, Dallas Jr. Stars
The Dallas Jr. Stars sent a message against their potential 1st round playoff opponent Sugar Land Imperials this past weekend by picking up a three game sweep of the Imperials. Defenseman Cam Choate, 19, was not only good defensively, but helped on the offensive end as well. The native of Plano, Texas had five points in the three wins and recorded at least a point in all three games. On Friday, Choate (6'4/215) scored once and assisted once in a 9-1 win. On Saturday, he had an assist in a 5-3 win and on Sunday he assisted on two goals in a 5-3 win. In 35 games this season, Choate has 26 points. "Cam has great size for a defenseman and he has improved since Day 1 with our team. He has a great shot and is very effective when he can put it on net and create offense for us," said Dallas head coach Jason Deitsch.
2nd Star: Stephen Smith, F, Dallas Jr. Stars
Honorable Mention (alphabetical): Yves Bader, F, Sugar Land Imperials – Cole Sharrah, D, Sugar Land Imperials
West Division Star of the Week: Calvin Miska, forward, Twin City Steel
Twin City forward Calvin Miska, 20, helped his club pick up five of a possible six points in three weekend games last week. The native of Stacy, Minnesota, had five points in the three games. On Friday night, Miska (6'1/195) picked up a goal and two assists in a 5-1 home win over the Minnesota Flying Aces. On Saturday, Miska added a goal in a 3-2 win over the Breezy Point North Stars. On Sunday, Miska had a goal in a 5-4 shootout loss at Granite City. Miska currently ranks 2nd on the team in scoring with 47 points in 39 games played with the Steel this season. "Calvin is a leader and one of the hardest working athletes I have ever met. He pushes himself and his teammates to the next level. He plays hard on both ends of the ice and the type of player that can take this this team further," said Steel General Manager Bryant Black.
2nd Star: Taylor Brown, F, Granite City Lumberjacks
Honorable Mention (alphabetical): Jace Childs, F, Twin City Steel – David Kenney, F, Granite City Lumberjacks – Joe Kleven, D, North Iowa Bulls – Logan Murphy, F, North Iowa Bulls