NA3HL announces Divisional Stars of the Week
March 11, 2014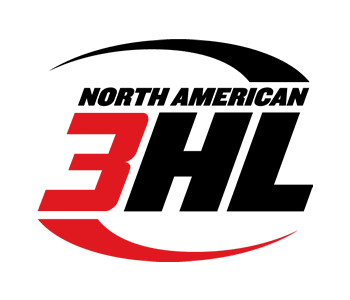 The North American 3 Hockey League (NA3HL) today announced the Divisional Stars of the Week presented by Easton for the week ending March 9, 2014. The divisional stars of the week is an award given each week of the regular season to the top performing players in each of the four divisions of the NA3HL as nominated by their head coaches. This is the final Divisional Stars of the Week award for the 2013-14 season.
Central Division Star of the Week: Ryan Martin, forward, Wisconsin Whalers
It was a nine-point weekend for Wisconsin forward Ryan Martin, 19, who helped the Whalers secure the #3 seed in the Central Division with their recent success. During the three-game weekend, the native of Rochester, Minnesota, had 2 goals and 7 assists for 9 points and was a +4. On Friday, Martin (5'10/170) had two assists in a close 7-5 loss to Chicago. On Saturday, Martin had two goals, including the game-winning goal and as assist, in a 5-2 win over Battle Creek. On Sunday, he capped off his weekend with four assists in an 8-1 win over the Revolution. For the season, the rookie led the Whalers in scoring with 80 points, including 37 goals in 47 games played. "Ryan has been so good all season long and I think his performance this season, which includes the 37 goals is remarkable for a rookie," said Whalers head coach Tom McDermott.
2nd Star: Sam Turner, F, Peoria Mustangs
Honorable Mention (alphabetical): Marc Hayton, G, Peoria Mustangs – Zack Johnson, F, Wisconsin Whalers – Simon Koscielski, D, St. Louis Jr. Blues – Andrew Kovicich, F, St. Louis Jr. Blues – Toms Taurins, F, Chicago Junior Bulldogs
East Division Star of the Week: Kameron Lindburg, goaltender, Metro Jets
Metro did exactly what they had to do this past weekend, and that was to defeat Toledo in regulation in two straight games. In goal for both the Metro wins was 18-year-old Howell, Michigan native Kameron Lindburg. Lindburg (6'1/185) stopped a combined 45 of 47 shots that came his way in the two wins, which included a shutout. On Friday, Lindburg made 29 saves as the Jets scored in the final minute of regulation to pull out a dramatic 3-2 win. On Saturday, Lindburg stopped all 16 shots that came his way for his first shutout of the season as Metro clinched the final playoff spot with a 5-0 win over the Cherokee. For the season, Lindburg has a 10-10-0 record with a 3.05 goals against average and a 89.6% save percentage.
2nd Star: Jared Johnson, F, Cleveland Jr. Lumberjacks
Honorable Mention (alphabetical): Stefan Horgas, F, Cleveland Jr. Lumberjacks – Cooper McLean, F, Metro Jets – Kevin O'Shea, G, Michigan Mountain Cats – Max Vance, F, Michigan Mountain Cats
South Division Star of the Week: Alex Sauer, forward, Topeka Capitals
Newly acquired forward Alex Sauer, 19, made his presence felt this weekend as the South Division Champion Topeka Capitals finished their regular season with a three-game sweep on the road against Sugar Land. The native of Atlanta, Georgia, had seven points in the three wins, which included two goals, five assists and a +7 rating. On Friday, Sauer (5'10/160) had two assists in a 4-1 win. On Saturday, he added three more assists in a 10-2 win and on Sunday, Sauer had two goals, including the game-winner in a 7-1 win. In six games with the Capitals this season, Sauer has nine points. Sauer played almost the entire 2013-14 season for the Atlanta Fire 18U team in the NAPHL, where he led the team in scoring with 24 points in 22 games played. "Alex joined our team at the deadline and has been a valuable addition. He brings an offensive game that will help us down the stretch," said Topeka head coach Anthony Bohn.
2nd Star: Kole Hudson, F, Topeka Capitals
Honorable Mention (alphabetical): None
West Division Star of the Week: Tim Santopoalo, forward, North Iowa Bulls
As North Iowa secured the top regular season record in the NA3HL this past weekend, forward Tim Santopoalo, 20, was putting the cap on his regular season junior career with another memorable weekend. The forward from Roscoe, Illinois, had 12 points in three North Iowa wins as the Bulls finished with a 45-3-0 record. After starting the week with a loss to Granite City on Wednesday, Santopoalo (5'7/160) picked things up on Friday with a goal and an assist in a 12-2 win over Breezy Point. On Saturday, Santopoalo had a hat-trick and three assists in a 10-1 win over Breezy Point and on Sunday, he recorded a goal and three assists in a 7-1 home win over Granite City. For the season, Santopoalo put up some incredible numbers finished 2nd in the NA3HL in goals with 50, finishing 2nd in assists with 68 and finishing 2nd in points with 118. He also finished 3rd in plus/minus with a +92. "Tim is the catalyst of our team. He is focused, he is trying to be an all-around student athlete. He has the ability with his speed to get around guys, but the way he sees the ice and the ability to read defenders and react really sets him apart," said Bulls head coach Todd Sanden.
2nd Star: Jordan Moran, G, North Iowa Bulls
Honorable Mention (alphabetical): Taylor Brown, F, Granite City Lumberjacks – David Kenney, F, Granite City Lumberjacks