Lumberjacks advance to West Finals with win
March 17, 2014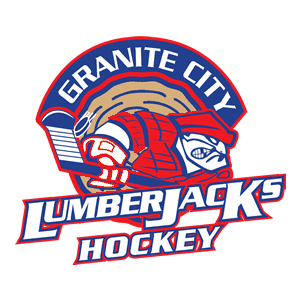 Alexandria Blizzard 2 @ Granite City Lumberjacks 4 (Granite City wins best of three series, 2-1) – In the only NA3HL series to go the full three games, it turns out that home-ice advantage did matter in the final game as the Lumberjacks beat the Blizzard on Sunday, 4-2 to advance to the West Division Finals where they will face the defending champion North Iowa Bulls.
Things looked good for the Lumberjacks early in the game as Drew Otto singlehandedly put Granite City ahead 2-0 with back-to-back goals just three minutes apart. However, the Blizzard would show some resolve as they struck back twice to tie the game. Just :12 second after Otto made it 2-0, Mick Dhein scored to make it 2-1. Tom Schmidt then scored to make it 2-2 with just about three minutes to go in an active 1st period.
The 2nd period is when Granite City took over late in the period thanks to two power play goals. First, Taylor Brown scored the eventual game-winning goal with under four minutes to play in the period as Otto picked up his 3rd point of the game with an assist. Just over two minutes later David Kenney added an insurance goal to make it 4-2.
In a scoreless 3rd period, Granite City goalie Scott Murray made 10 of his 26 saves to secure the win. Evan Bisek took the loss in goal for the Blizzard, making 28 saves as Alexandria's season came to a close.