Flint dominant in Game 1 win in East Finals
March 20, 2014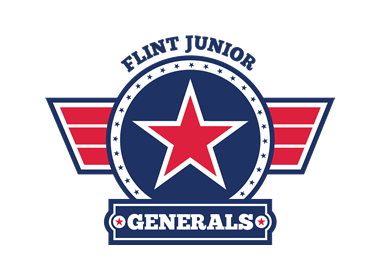 Cleveland Jr. Lumberjacks 1 @ Flint Junior Generals 5 – Conor Durgan had a three-point night as the Flint Junior Generals put on a dominant performance in a Game 1 East Division Finals win over Cleveland on Wednesday night.
Flint scored the first goal of the game as Brett Leppek struck halfway through the period with assists to Jacob Lainesse and Nick Gnagni.
The lead swelled to 3-0 in the 2nd period as Josh Koepplinger scored at the 8:35 mark with assists to Durgan and Zach Koonce. Durgan then added a goal five minutes later to make it 3-0 with assists to Koepplinger and Justin Fisher.
Cleveland cut the lead to 3-1 with their lone goal from Tyler Dalton with assists to Mike Palasics and Ben Lau. Flint put the game away with two more goals from Luke Dmytro and Mark McGee.
Anders Franke made 20 saves in the win, while Joe Moza took the loss making 41 saves.