Bulls defenseman Hanson makes NCAA commitment
April 18, 2014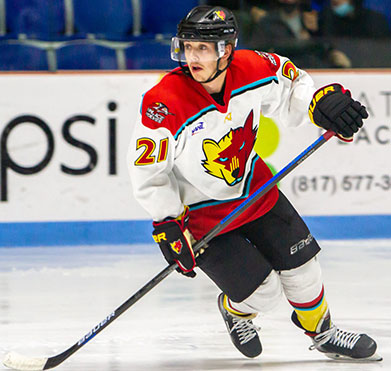 By Jeremiah Bartz, Mat-Su Valley Frontiersman
The North Iowa Bulls of the NA3HL are proud to announce that defenseman Chancie Hanson from Wasilla, Alaska has committed to play NCAA Division III hockey for St. Johns University (MN) (MIAC-D3).
Chancie credited his time with the Bulls for his opportunity not only to develop his game but be seen by quality college programs. " I had a few offers but after my visit, St. Johns just felt right," commented Hanson.
Hanson established himself as that solid defenseman during his two-year stay in Mason City, Iowa, with the Bulls. Hanson, 20, recently helped North Iowa win its second straight NA3HL Silver Cup league championship, and earn a second straight trip to the USA Hockey Junior A Tier III national championship game. Hanson and the Bulls won the national title in 2013 and finished as the runner-up in 2014.
During his second season, Hanson bagged three goals and 30 assists and logged a plus-57 rating as he helped his team finish 45-3-0 during the regular season. He added four assists and a plus-2 rating during eight NA3HL playoff games, and collected a pair of assists during four games in the national tournament.
"Chancie is a steady defenseman who brings a physical presence with some offensive capabilities as well. We wish Chancie the best as he enters the next part of his development as a student and hockey player," said North Iowa head coach Todd Sanden.
After a NA3HL road game against the Granite City Lumberjacks during the 2013-14 season, a North Iowa coach pulled three or four players out of the room. A St. John's University coach was there to see them. Hanson, who had been in contact with the Johnnies coaching staff, wasn't one of the players. Hanson was frustrated with his play that night, and wondered if St. John's was no longer an option.
A few minutes later, the coach came back into the locker room. He wanted to talk to Hanson. Thanks in part to a conversation that nearly didn't happen, Hanson is now a Johnnie.
Fresh off a memorable two-year career with the Junior A Tier III Bulls, Hanson, a 2012 graduate of Wasilla High School has committed to St. John's and will play hockey for the NCAA Division III program in the fall.
"I was surprised, honestly," Hanson said of getting the call to talk to the St. John's coach that day. "I was sitting in the locker room after the game. I finally had someone come look at me, and I thought I totally screwed it up. I am sure I didn't play as bad as I (thought), but I'm my own worst critic. They know hockey and know what they're looking for. The small things mean a big deal to them. I guess they saw what I had to offer."
Hanson, who had a handful of options at the DIII level, was invited to tour the St. John's campus in Collegeville, Minn. There, he took a piece of advice that made the decision easy for him. "The coach gave me the best advice about this whole ordeal. If you get injured, are scratched, if hockey's not going well, you don't want to be at a place you're not happy at for school," Hanson said.