Mustangs announce coaching staff for 2014-15 season
May 28, 2014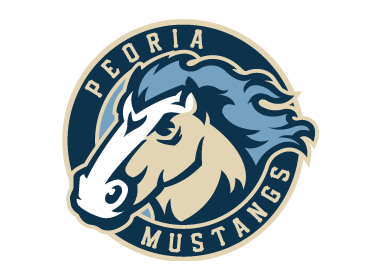 Tyler Rennette, Head Coach/General Manager of the NA3HL's Peoria Mustangs, is pleased to announce his coaching staff for the upcoming 2014/15 season.
Tyler adds that, "I'm extremely happy and fortunate to have such a talented, professional and passionate group of coaches for the coming season… our boys will learn a tremendous amount from these guys… both on and off the ice."
Jake Hanson, Assistant Coach - Jake is a Mustangs' alumnus and comes back to the team on the bench. After the Mustangs, Jake advanced to the Springfield Jr Blues and Texarkana Bandits of the NAHL… he then went on to play for Marian University (NCAA Division III). Jake committed his hockey efforts by helping to found the Texarkana Youth Hockey League and then to the Peoria Youth Hockey League where he has coached since 2011, most recently as head coach of the Midget Minor team. Jake always brings tremendous passion to the game on-ice and has also been acknowledged for his significant off-ice community efforts.
Brian Hamilton, Goaltender and Video Coach - Brian enters his 2nd full season as the Mustangs' Goaltender and Video Coach. Over the past years, Mustangs' goaltenders have improved greatly to become leading goaltenders in the NA3HL and have moved to attractive colleges to continue their hockey careers. Brian played professionally over a 20 year hockey career and rostered with the Peoria Rivermen in all of its eras… the IHL, ECHL, AHL… and most recently last year in the SPHL. Brian was a part of the Rivermen's IHL Turner Cup team in 1991 and the ECHL Kelly Cup team in 2000.
Greg Eberle, Strength and Conditioning Coach - Greg will be expanding his role with the Mustangs this season in becoming the teams' first Strength and Conditioning Coach. Greg previously worked for the St. Louis Blues and was assigned to the Peoria Rivermen for 15 years as the Head Athletic Trainer and Strength and Conditioning Coach. Currently, Greg works as the Assistant Director of Sports Medicine at the Hopedale Medical Complex and has been providing care for the Mustangs players for the past seven seasons. Greg is a Certified Athletic Trainer.