Breezy Point rebuilding process starts with tenders
June 23, 2014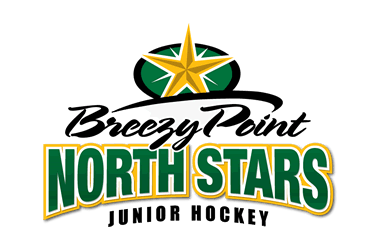 A new look will definitely be seen in Breezy Point for the 2014-15 NA3HL season. With new Coach Jeff Worlton in charge the efforts to not only get better, but compete will be a mandate. In tirelessly scouting several various camps and venues the Breezy Point staff has worked hard to build the team GM Craig Larson and Coach Worlton desire but more importantly demand. Here as follows are the 2014 tenders that Breezy Point has signed for the 2014-15 season:
Ryan Mezera, forward-This Mequon, WI young man is a great start to our building process. Coach Worlton states, "I have watched this kid mature from a good player to a potential great player. In watching this kid we believe he will be dynamic. He will work extremely hard to win battles with great skill this young forward is a real find."
Trevor Hawkes, goalie-This young goalie is another building block. The Rockford, IL native will be competing for a spot on the new look North Stars. He is in the words of the staff... "a hard working kid who will only get better."
Sam Schultz, defense-This Wisconsin product will anchor a new look blue line. With a great offensive touch and great skill he will be counted on to be a difference maker. "Sam is a hard worker who battles," states the Coach. The Arrowhead standout is being counted on to be the offensive rearguard needed.
John Capperelli, goalie-The Dumont, NJ goalie is another building block. He is athletic and a diligent worker. A theme you will see with most of the guys. Coach states, "depth in the NA3HL is absolutely vital."
Ben Koester, forward-The Appleton, WI forward add to vital components to build a winning team. Coach states, "our expectation with Ben is to come here and make a difference. With his obvious skills and grit he will be welcomed to the club immediately."
Joe Licata, goalie-This Jackson, NJ youngster is a real key. Joe comes with a nice size pedigree with his efforts in the NAPHL first with the New Jersey Titans then with the California Titans. In garnering league honor he illustrates the work effort that we demand here in Breezy Point.
Alex DiBacco, defense-Hailing from Darien, IL this player will also be an anchor on the blue line. The smooth skating rear guard will make an immediate impact on the back end. Coach says, "Alex will battle to his last breath and we like it."
Jordan Carey, forward-Middleton, WI got it right with this kid. Jordan will be counted on to be a big time factor here. Coach states, "Jordan is the model for the type of forward we want here hard work, skill and great speed. What's not to like with this strong, smart and excellent motor he possesses."
Linder Kenyon, defense-Yardley, PA is where the young, smart and fearless youngster lives. Linder has been on the radar for 2 years states our scouting staff. Moreover he brings an element of combined nasty, hockey sense and most importantly legit upside. We feel he is a real catch. He will also be counted on in a leadership role he will we feel embrace.
Alex Mimmack, forward-This local Brainerd product is another building block. His value is in the fact he has been a fierce competitor and now will show his wares in the Point. He is being counted on to bring up the standards.
Sean Viti, defense-The Highland, IL native is a coach's dream. Coach says " Sean is a very good blue liner who makes us better right now. With a high motor and obvious heart he will be another great piece to the new and improved backend with the Point."
Phillip Grippi, defense-The Glen Carbon, IL dman is another high end rearguard who makes us better. he has an offensive touch with a nasty edge in his arsenal.
Addison Edwards, forward-The Arizona native has surprised and thrilled the staff with this tender Coach says " Addison will be counted on in various situations" he brings offensive touch with an outstanding work ethic.
Coach Worlton expressed the following… "The overall goal was not only depth but as you clearly can see several difference makers are evident."