31 in 31 series: Billings Bulls
August 7, 2014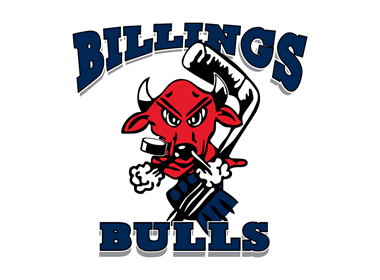 The North American 3 Hockey League (NA3HL) is pleased to continue their season preview series, '31 teams in 31 days' exclusively on na3hl.com, the NA3HL Facebook page and Twitter.
The 31 in 31 series will feature an in-depth look into all 31 teams in the NA3HL for the 2014-15 season, with a new team being highlighted daily, leading all the way up until the start of the regular season on Saturday, September 6th as eight NA3HL teams take to the ice on Opening Night.
31 in 31 goes in-depth into each NA3HL team and will include interviews with all 31 head coaches in the NA3HL, as they provide fans with their expectations and outlook for the 2014-15 season, including taking a look at their potential roster and their strengths as a team for the upcoming season.
It will also take a look back on the 2013-14 season and how each team fared and what they accomplished. Best of all, 31 in 31 will provide the fans of the NA3HL with an inside look at their favorite team and what to expect.
Billings Bulls
Head Coach: Joe Deptula
2013-14 Record: 23-21-4, 50 pts. (4th, AWHL)
2013-14 Leading Scorer: TJ Theodosopoulos (15 G, 29 A, 44 P, -3)
Playoffs: Eliminated in AWHL Semi-Finals by Helena, 3 games to 0
2014-15 Division: Frontier
First Regular Season Game: Fri. September 19th, 2014 7:30 PM vs. Yellowstone
Home Opener: Fri. September 19th, 2014 7:30 PM vs. Yellowstone
Joe Deptula is no stranger to the Bulls, having been with the team the past two seasons. He continues as the head coach coming into the 2014-15 season.
When spoken to about this past season, Deptula said the following. "As a coach you want to do better then you do when you finish up. Considering we had the youngest team, we started off kind of slow, but we had a pretty good finish. It's always exciting to have a young team that does pretty well."
Filling much-needed roles was the name of the game this summer. "We were trying to make sure we got our returners back and fill some pieces that we were missing last year," said Deptula. "We were missing some veteran leadership and making sure we have some young guys to fill some rolls for us is key so we can continue to develop our program and get back to where the original Bulls were, as one of the winnings' teams in junior hockey."
"Its kind of scary," Deptula said when talking about 31 teams being in the new-look NA3HL. "Especially for us coming from the American West Hockey League. We kind of went from being a big fish in a small pond to a small fish in a big pond. It makes it kind of difficult to know the other teams and how good they are going to be when you are so used to such a small division."
With a strong front, Billings could be a strong contender in the Frontier Division. "Last year we didn't do a very good job at scoring goals," said Deptula. "We want to be a better offensive team. Last year we had two or three guys in the 20-40 point range as defensemen. We don't want to have to rely on our defense to score goals. We want forwards that can contribute more."
Moving kids on to the next level is top priority for Billings. "We understand that we are part of a developmental league," said Deptula. "We're trying to move all our guys up. That's part of the process trying to move guys forward and on to the North American Hockey League."
With a new Frontier Division and new teams it's going to be exciting to see what each team brings to the table.
"It's exciting, this is my first year as the head coach of the program. I think we have brought in some good guys to beef up our staff. Everything looks like its going in the right direction."
Next up in the 31 in 31 series: Bozeman Icedogs, August 8th