31 in 31 Series: Breezy Point North Stars
August 9, 2014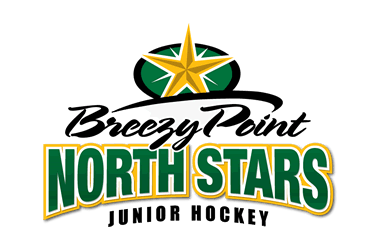 The North American 3 Hockey League (NA3HL) is pleased to continue their season preview series, '31 teams in 31 days' exclusively on na3hl.com, the NA3HL Facebook page and Twitter.
The 31 in 31 series will feature an in-depth look into all 31 teams in the NA3HL for the 2014-15 season, with a new team being highlighted daily, leading all the way up until the start of the regular season on Saturday, September 6th as eight NA3HL teams take to the ice on Opening Night.
31 in 31 goes in-depth into each NA3HL team and will include interviews with all 31 head coaches in the NA3HL, as they provide fans with their expectations and outlook for the 2014-15 season, including taking a look at their potential roster and their strengths as a team for the upcoming season.
It will also take a look back on the 2013-14 season and how each team fared and what they accomplished. Best of all, 31 in 31 will provide the fans of the NA3HL with an inside look at their favorite team and what to expect.
Breezy Point North Stars
Head Coach: Jeff Worlton
2013-14 Record: 8-38-2, 18 points (6th, West Division)
2013-14 Leading Scorer: Nick Manning (13 G, 18 A, 31 P, -2)
Playoffs: Did not advance
2014-15 Division: West
First Regular Season Game: Sat. September 13th 7pm vs Alexandria
Home Opener: Sat. September 13th 7pm vs Alexandria
"Obviously, no, our organization was not happy with the results," said new Head Coach Jeff Worlton about last season. Worlton came to the North Stars in the off season after serving as an assistant coach in the NAHL last year for the Corpus Christi IceRays.
"However, with any young organization, you go through the growing pains of building the structure of the hockey program. A priority for the Breezy Point North Stars is to produce a program that both wins and develops players. So, my goal is to recruit and build a team that will win games and develop players for the next level."
With the hiring of Doug Bailey as the new head scout of Breezy Point, it looks like they will be on the right path to get more wins this season.
"The first step obviously is scouting and recruiting the right types of players that want to be at Breezy Point," said Worlton. "Hiring Doug Bailey as the Head Scout was the first step. The NA3HL is a very competitive league and the Western Division is the probably the most competitive division in the league. My goal as Head Coach is to build the best program we can in a short period of time that will produce players that will compete at a high level. I also want to create a new atmosphere and energy, here in Breezy Point."
When Coach Worlton was asked about his thoughts on the league now being at 31 teams and five divisions he said, "I think creating bigger footprint for the NA3HL was a good move. The NA3HL has proven that it has a solid track record of developing players and moving them on to the NAHL and to colleges. With a larger group of players in our league, it creates more opportunity for advancement and solidifies our reputation among the other Tier 3 leagues in North America."
With a program in a small hockey community it give players the ability to focus on developing and moving up to the next level.
"With everything that we have to offer at Breezy Point, we have the unique situation with the players living so close to the rink," said Worlton. That allows us to have more practice time. This allows a better developmental system for players to work together and practice together. Our hockey community is small, so it allows our players to focus on hockey and hockey development, which is better for the players in the long run. Our off-ice training at Minnesota Hockey Camps is another excellent resource for our players to grow and develop their mental and physical game. Our environment is a Win-Win for our players."
"In addition to the above mentioned, having Shawn Chambers, a two-time Stanley Cup winner, on the staff also helps draw players to Breezy Point," said Worlton.
With the right personal in place the focus will be getting the right players to make things happen.
"As an organization that has struggled in the past, we have to improve in all areas," said Worlton. We have great ownership, GM, coaching, and scouting in place. With this great staff in place, we will improve in all areas on and off the ice. Specifically on the ice, we will focus on team defense, which will lead to a better offense, which will lead to more wins. Overall, these areas will lead to an improved ¬team toughness."
With hard working players the opportunities will come at Breezy Point.
"The key is strong defense followed by a consistent offense that can show up every night, compete and win races to the puck, play a strong physical game and be a shutdown team," said Worlton. "I'm confident that our staff has the right ingredients to put our players in the best position to be successful."
With a new season just around the corner, Breezy Point should have some strong leaders in place to move them up in the division with returners like Crosby Steen and Blake Newman.
"We really only have 3 to 4 returning players," said Worlton. "Steen will be returning forward as will Newman. We expect both of them to be ready to lead a new team. We tendered well and we had a strong draft. That we hope with some of those players, we will be able to fill key roles in the rebuilding process of the Breezy Point North Stars."
Next up in the 31 in 31 series: Chicago Junior Bulldogs, August 10th