31 in 31 Series: Granite City Lumberjacks
August 16, 2014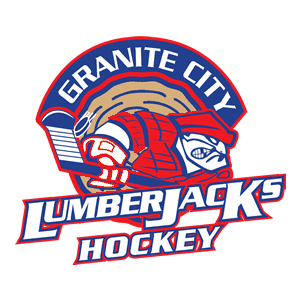 The North American 3 Hockey League (NA3HL) is pleased to continue their season preview series, '31 teams in 31 days' exclusively on na3hl.com, the NA3HL Facebook page and Twitter.
The 31 in 31 series will feature an in-depth look into all 31 teams in the NA3HL for the 2014-15 season, with a new team being highlighted daily, leading all the way up until the start of the regular season on Saturday, September 6th as eight NA3HL teams take to the ice on Opening Night.
31 in 31 goes in-depth into each NA3HL team and will include interviews with all 31 head coaches in the NA3HL, as they provide fans with their expectations and outlook for the 2014-15 season, including taking a look at their potential roster and their strengths as a team for the upcoming season.
It will also take a look back on the 2013-14 season and how each team fared and what they accomplished. Best of all, 31 in 31 will provide the fans of the NA3HL with an inside look at their favorite team and what to expect.
Granite City Lumberjacks
Head Coach: Brad Willner
2013-14 Record: 36-12-0, 48 Points (2nd, West Division)
2013-14 Leading Scorer: Aidan Verbeke (34 G, 35 A, 69 P, +33)
Playoffs: Eliminated in the Division Finals by North Iowa, 2 games to 1
2014-15 Division: West
First Regular Season Game: Sat. September 13th 7:30 pm vs Minnesota
Home Opener: Sat. September 13th 7:30 pm vs Minnesota
With a 36-12-0 record, the Granite City Lumberjacks ended up 2nd in the West Division earning them a spot in the playoffs where they lost in the West Division Finals to North Iowa, two games to one. Aidan Verbeke led the team in scoring with 35 goals and 35 assists. Verbeke will continue his hockey career at NCAA DIII's SUNY-Brockport.
"I think we were happy, but not satisfied," said head coach Brad Willner. "Finishing second in a very tough division and third overall in the league, we helped move 10 players onto college and 2 players signed NAHL tenders. We still strive to be better each day."
With Scott Murray heading to Concordia College, and Austin Wilson headed to University of Arizona. The Lumberjacks will have to look at replacing both goalies this offseason.
"Our biggest task will be replacing the loss of both our goalies," said Willner. "Both ranked in the top 10 in the league. We also need to replace some scoring up front. We lost our four top scoring forwards from last season. I feel we have returners that can step up and fill those roles but we need to add some new guys into some scoring roles. Our defensive core will be mostly returning."
When Coach Willner was asked about his thoughts on the league now being at 31 teams and five divisions he said, "I think it was great to expand our brand. It will only make us stronger as a league and raise the level of Tier 3 hockey. I believe that overall, the league gets stronger every year."
With a strong West Division in the NA3HL, the Lumberjacks get great exposure in the area, which is a key selling point to players who want to develop their skills and move up.
"We have a great track record of moving players up while still being very competitive," said Willner.
Not only on ice practices but a strong off ice conditioning program is key to overall strength during the season.
"I feel that we need to work on our overall strength and toughness," said Willner. "We have changed up our off ice conditioning program and I feel we will see big results by playoff time."
"I think advancing players and winning go hand and hand," Willner said when speaking about advancing players vs. winning. "The more you win, the more players advance. The more players you have advance, the easier it is to get great players to your program. We never hold players back from advancing during the season. We think its great and by doing so, lets another player step up into a bigger role on the team."
With some veteran players coming back in David Kenney, Luke Richardson, and Zach Voss up front, and Mitch Gwost, Morgen Martelle, and David Horsmann on Defense. The Lumberjacks are looking to have a strong presence in the West Division in the 2014-15 season.
Next up in the 31 in 31 series: Great Falls Americans, August 17th