31 in 31 Series: Metro Jets
August 20, 2014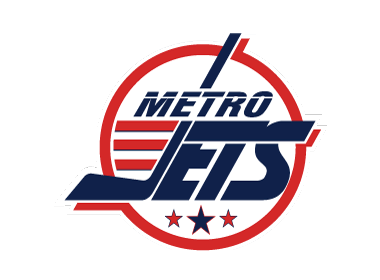 The North American 3 Hockey League (NA3HL) is pleased to continue their season preview series, '31 teams in 31 days' exclusively on na3hl.com, the NA3HL Facebook page and Twitter.
The 31 in 31 series will feature an in-depth look into all 31 teams in the NA3HL for the 2014-15 season, with a new team being highlighted daily, leading all the way up until the start of the regular season on Saturday, September 6th as eight NA3HL teams take to the ice on Opening Night.
31 in 31 goes in-depth into each NA3HL team and will include interviews with all 31 head coaches in the NA3HL, as they provide fans with their expectations and outlook for the 2014-15 season, including taking a look at their potential roster and their strengths as a team for the upcoming season.
It will also take a look back on the 2013-14 season and how each team fared and what they accomplished. Best of all, 31 in 31 will provide the fans of the NA3HL with an inside look at their favorite team and what to expect.
Metro Jets
Head Coach: Justin Quenneville
2013-14 Record: 22-24-2, 46 Points (4th, East Division)
2013-14 Leading Scorer: Brad Hepler (48 GP, 11 G, 25 A, 36 P, -4)
Playoffs: Eliminated in the East Division Semi-Finals by Flint, 2 games to 0
2014-15 Division: East
First Regular Season Game: Sat. September 6th 7:50 pm vs Cleveland
Home Opener: Sat. September 6th 7:50 pm vs Cleveland
With a 22-24-2 record, the Metro Jets ended up 4th in the East Division earning them a spot in the playoffs where they lost in the East Division Semi Finals to Flint, two games to none. Defenseman Brad Hepler led the team in scoring.
"Coming in at the middle of the season last year was difficult for our guys," said head coach Justin Quenneville. "However, they competed every night and worked to build towards being a hard to team to play against. I am very pleased with how we grew over the course of the season and found ways to win in the second half to compete in playoffs."
This summer, the Metro Jets addressed the needs for a stronger offense.
"We were a structured and hard working program last season," said Quenneville. "However we lacked skill. Several of our Tenders and Draft Picks will hopefully add that other element of offense we are looking for."
"Naturally that is a lot of teams for one league," said Quenneville when asked about the league now being at 31 teams. "However, at this level it speaks volume of the model the NA3HL preaches and its stability as a development league. Geographically no other league at the Tier 3 level compares to the NA3HL footprint. We look forward to seeing the newest programs compete in December at the showcase."
"Opportunity," Quenneville said when asked about what makes his program appealing to players. "We don't sell anything to players, we simply educate them on the platform we can provide them to succeed, develop and move on with. Our goal is to find that balance between winning and advancing players, and we look to continue to build on both areas this season as foundation for success."
Quenneville spoke of two words when asked about what areas he wanted to see his team get stronger in. "Special teams. Winning special teams battles wins hockey games."
"Every team has a model they strive to succeed with," Quenneville said when speaking about the balance of advancing players vs. winning. "We measure our level of success on striving to be the best at both. Several of our players we advanced last year left with the right mentality and our biggest goal as a coaching staff is to help develop the player to succeed beyond the program he started with on and off the ice."
With a 4th place finish in the East division last season, the Metro Jets are looking to move up the ranks with key veterans coming back in Kyle Shreve and Alex Holm.
"Our leadership will be more experienced this year and be relied on heavily early to pave the way," said Quennevile. "Shreve and Holm were top players last year for this program and will be depended on to provide the majority of our offense. Newcomers like Jake Sealy (FW) and Tyler Layle (DF) are expected to jump right in and make immediate impact on our special teams."
Next up in the 31 in 31 series: Minnesota Flying Aces, August 21st