31 in 31 Series: Minnesota Flying Aces
August 21, 2014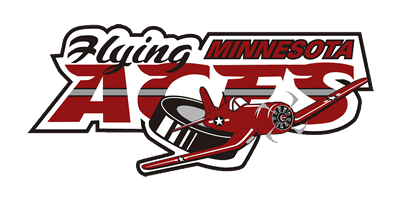 The North American 3 Hockey League (NA3HL) is pleased to continue their season preview series, '31 teams in 31 days' exclusively on na3hl.com, the NA3HL Facebook page and Twitter.
The 31 in 31 series will feature an in-depth look into all 31 teams in the NA3HL for the 2014-15 season, with a new team being highlighted daily, leading all the way up until the start of the regular season on Saturday, September 6th as eight NA3HL teams take to the ice on Opening Night.
31 in 31 goes in-depth into each NA3HL team and will include interviews with all 31 head coaches in the NA3HL, as they provide fans with their expectations and outlook for the 2014-15 season, including taking a look at their potential roster and their strengths as a team for the upcoming season.
It will also take a look back on the 2013-14 season and how each team fared and what they accomplished. Best of all, 31 in 31 will provide the fans of the NA3HL with an inside look at their favorite team and what to expect.
Minnesota Flying Aces
Head Coach: Andy Maher
2013-14 Record: 9-36-3 (5th, West Division)
2013-14 Leading Scorer: Jake Mullendore (24 G, 23 A, 47 P, -44)
Playoffs: Did not advance
2014-15 Division: West
First Regular Season Game: Sat. September 13th 7:30 pm at Granite City
Home Opener: Sat. September 27th 7:05 pm vs Granite City
With a 9-36-3 record, the Minnesota Flying Aces ended up 5th in the West Division just missing out on the 4th place spot to advance to the playoffs. Jake Mellendore led the team in scoring with 24 goals and 23 assists. He was tendered by the Fairbanks Ice Dogs (NAHL) during the 2013-14 season and was also selected to the 2013-14 NA3HL All-Rookie Team.
"No we weren't happy with the way things went last year but we look forward to a better season this year," said head coach Andy Maher.
During the off season this summer the Flying aces will have to look at replacing a few players that have moved on to higher levels of hockey.
Anthony Martinez, 20, will continue his hockey career at Becker College, a NCAA Division III program. Becker is a part of the ECAC Northeast Conference, which competes at the NCAA Division III level. In 38 games with Minnesota this season, Martinez has 31 points, which ranks 3rd on the team. Martinez has set career highs for goals (12), assists (19) and points (31) this season.
Eric Cruickshank, 20, just completed his first season in the NA3HL with the Flying Aces and second season of playing junior hockey. The native of Vernon Hills, Illinois, appeared in 34 games this season for the Flying Aces. He was 2nd on the team in scoring with 43 points in 34 games played, which included 19 goals and 24 assists. He will continue his hockey career at the University of Illinois, an ACHA DI program.
AJ Gullickson has signed an NAHL tender agreement with the Odessa Jackalopes. Gullickson also was selected to play for Team West at the 2014 NA3HL Top Prospects Tournament, where he had an assist in three wins as West won the event.
With multiple players moving on from the program, Minnesota is a good place to play for players wanting to advance in their hockey career.
"We tell future players the opportunity to play in the NA3HL is a great option where they will get good exposure to both tier 2 teams and division 3 colleges," said Maher.
"We stress player advancement either to Tier 2 or Division 3 a little more than winning, but with that said we believe Team success will help individual success so they go hand and hand," said Maher when asked about the type of balance they strive for in advancing players vs. winning.
This upcoming season the Flying Aces are looking to get back into the playoffs with a strong veteran presence.
"Big thing for us is we have a handful of veterans coming back this year that we didn't have last year," said Maher. "We strive to play the right way and if we compete every day hopefully we can get back in the playoffs."
Next up in the 31 in 31 series: Nashville Jr. Predators, August 22nd